Preparing for the Integrated Program in Management Aptitude Test (IPMAT) 2025 requires careful planning and choosing the right coaching institute is a pivotal decision in this journey. IPMAT is a highly competitive entrance exam that paves the way for a five-year Integrated Program in Management (IPM) at prestigious institutions like IIM Indore and IIM Rohtak. This exam is conducted twice a year, in May and December.
One institution that stands out as a leader in IPMAT coaching is Career Leaders, renowned across India for its exceptional track record of success. Students consistently achieve top ranks in the IPMAT exam under the guidance of Career Leaders.
Experienced and Qualified Faculty:
Career Leaders boasts a team of experienced and highly qualified faculty members who specialize in the IPMAT syllabus. These educators are not only experts in their fields but also deeply committed to guiding students towards their goals.
Comprehensive Curriculum:
Career Leaders provides a comprehensive curriculum that covers all the vital aspects of the IPMAT syllabus. The curriculum is thoughtfully designed to equip students with a robust foundation in IPMAT concepts, ensuring they are well-prepared for the exam in a structured and systematic manner.
Personalized Attention:
Career Leaders takes pride in offering personalized attention to each student. Faculty members are readily available to address doubts and difficulties, ensuring that every student's needs are met.
Regular Practice Tests and Mock Interviews:
Career Leaders conducts regular practice tests and mock interviews, enabling students to assess their preparation and pinpoint areas that require improvement. These assessments contribute significantly to enhancing performance.
Quality Study Materials:
Career Leaders provides high-quality study materials including textbooks, workbooks, and practice tests, equipping students with the resources needed to excel in their IPMAT preparation.
Performance Analytics:
Career Leaders offers detailed performance analytics to track each student's progress. These analytics help students and their mentors identify strengths and weaknesses, allowing for more targeted and effective preparation.
Interactive Learning:
The institute incorporates interactive learning methods to keep students engaged and facilitate a deeper understanding of the IPMAT concepts. Interactive sessions, discussions, and problem-solving activities enhance the learning experience.
Mentorship Programs:
Career Leaders provides mentorship programs that connect students with experienced mentors who offer guidance, motivation, and personalized support, helping students navigate their IPMAT journey more effectively.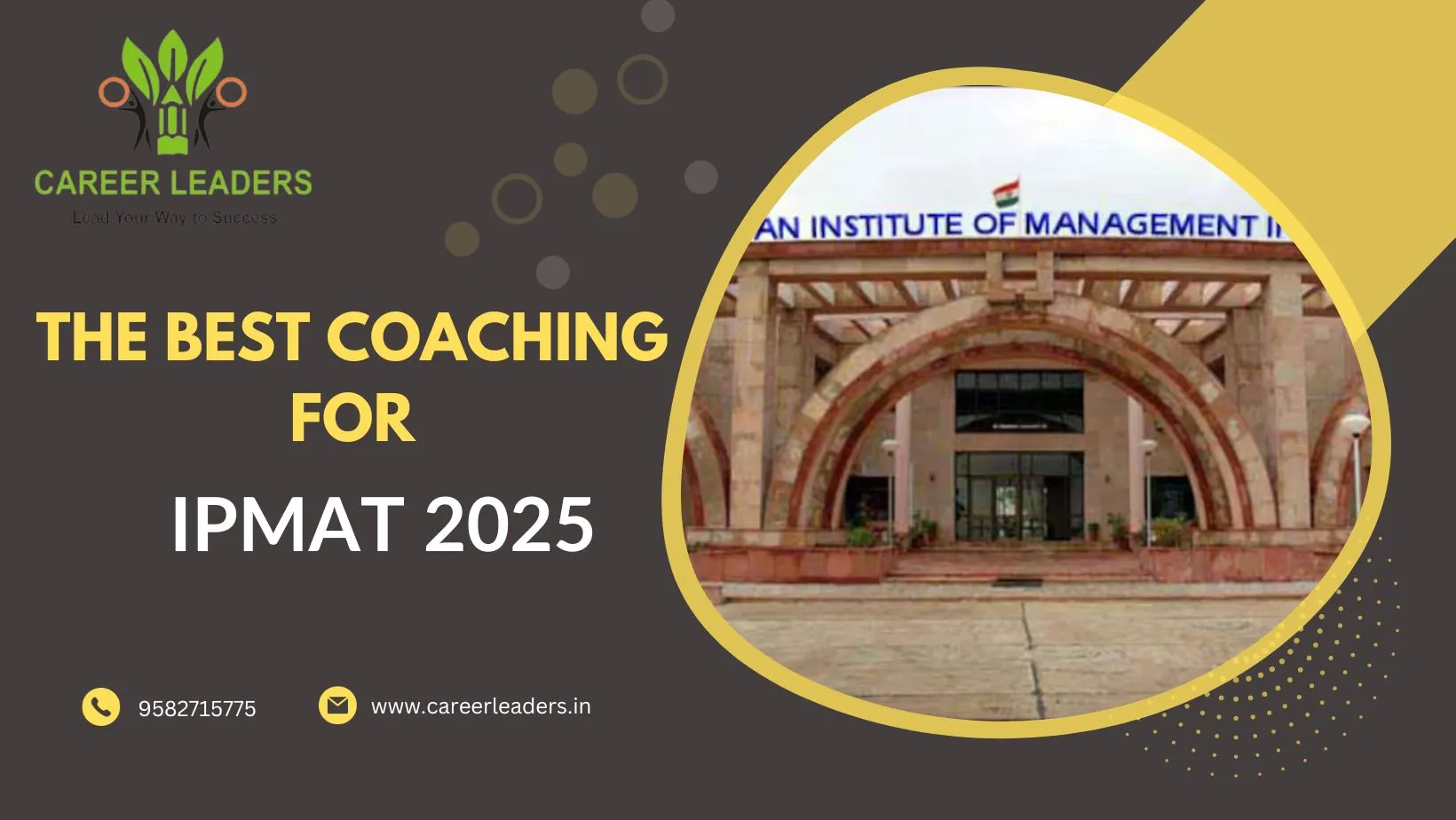 In addition to these features, Career Leaders offers several other advantages that establish it as the premier choice for IPMAT 2025 coaching:
Online Resources and Support: In addition to online classes, Career Leaders offers a plethora of online resources, including video lectures, study materials, and discussion forums, enabling students to access study materials and connect with instructors at their convenience.
Individual Performance Monitoring: The institute employs technology to monitor each student's progress, allowing them to identify areas of improvement and customize their study plans accordingly.
Comprehensive Test Series: Career Leaders provides an extensive test series with a wide range of practice questions and full-length mock tests, offering students the opportunity to thoroughly assess their readiness for the IPMAT exam.
One-on-One Counseling: Career Leaders conducts one-on-one counseling sessions, offering students the opportunity to receive personalized guidance on their strengths and weaknesses, helping them refine their study strategies.
Progress Reports: Regular progress reports are shared with students and their parents, providing a transparent overview of the student's development and highlighting areas that require special attention.
Accessibility Across Multiple Locations: Career Leaders has branches and centers in various locations, making it accessible to students from different regions, and ensures uniform quality across all locations.
Mentorship for Career Guidance: Career Leaders extends mentorship programs not only for exam preparation but also for career guidance, helping students make informed decisions about their future in the management field.
For those aspiring to conquer IPMAT 2025, Career Leaders offers an ideal platform. With their experienced faculty, comprehensive curriculum, and personalized attention, Career Leaders is your key to success.
Here are some valuable tips from Career Leaders for IPMAT 2025 aspirants:
Maintain a Healthy Lifestyle: While studying is crucial, don't neglect your physical and mental well-being. A balanced diet, regular exercise, and adequate sleep are essential for maintaining focus and energy during your preparation.
Use Multiple Learning Resources: Diversify your learning resources by utilizing textbooks, online courses, video lectures, and educational apps. Different resources can provide varied perspectives and insights.
Seek Guidance: Don't hesitate to reach out to mentors, teachers, or coaching staff if you encounter challenges. Their guidance can help you overcome difficulties and stay on the right track.
Time Management: Time management is critical. Prioritize your study hours effectively, allocating more time to subjects or areas where you need improvement.
Stay Updated: Keep abreast of current events, business news, and general knowledge. Being well-informed is essential, especially for the General Awareness section of IPMAT.
Group Study: Collaborative study sessions with peers can offer fresh insights and make learning more engaging. Explaining concepts to others can also reinforce your own understanding.
Simulate Exam Conditions: When taking practice tests or mock exams, try to replicate exam conditions as closely as possible. This will help you get accustomed to the test environment and reduce anxiety on the actual exam day.
Time Management in the Exam: During the actual exam, allocate your time wisely. Don't get stuck on a single question; move on to the next if you find a question particularly challenging. You can always come back to it later.
If you have any further questions or need additional guidance, please feel free to reach out our website 

[careerleaders.in]
Contact No:
+(91) 95827-15775