A Bachelor of Journalism and Mass Communication (BJMC) degree equips graduates with the essential skills for a career in journalism, mass communication, and media. Conversely, a Master of Business Administration (MBA) degree empowers individuals with the knowledge and expertise required for leadership and management roles in the business world. The decision to pursue an MBA after completing BJMC is driven by several compelling reasons and offers diverse career prospects.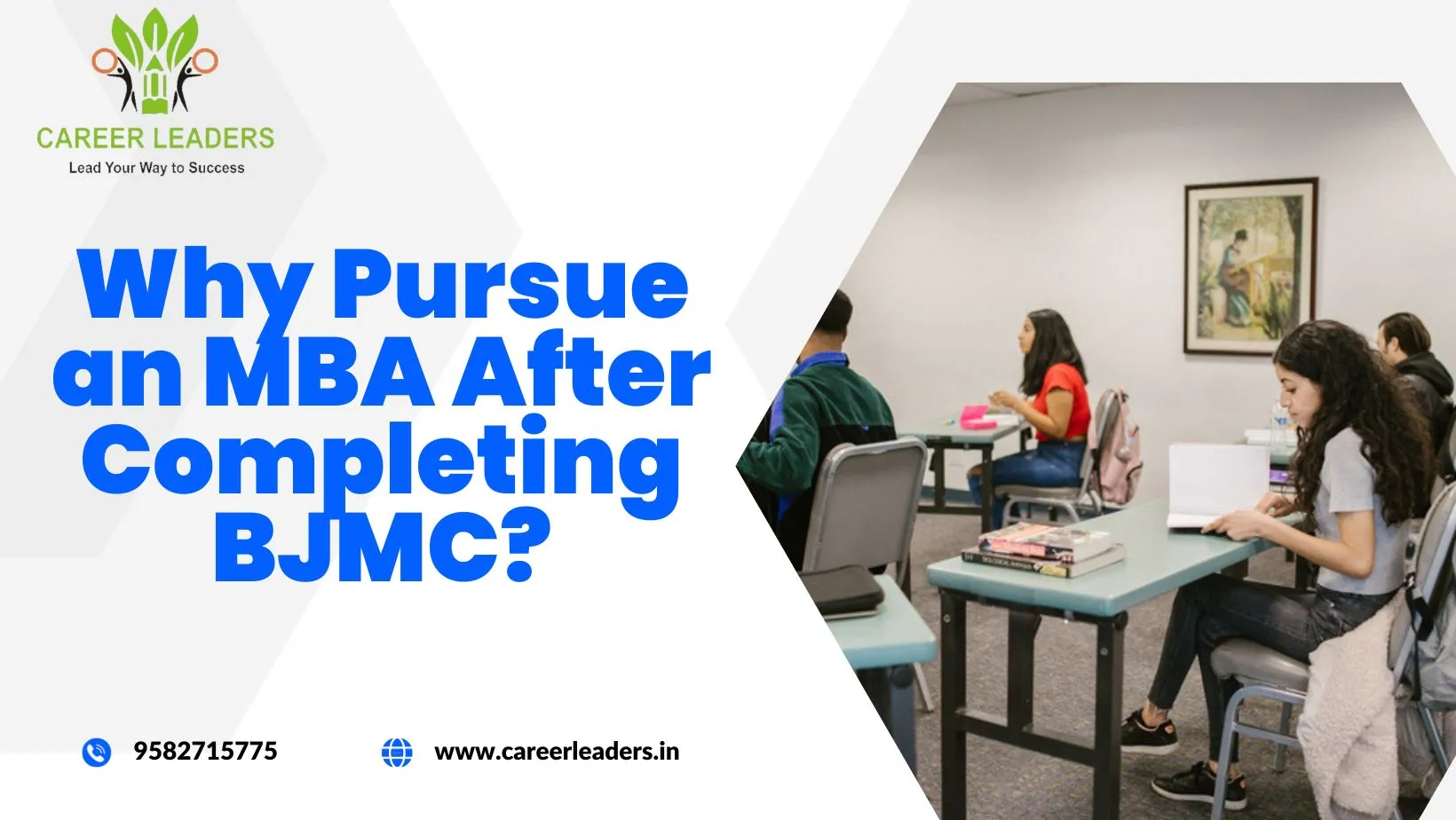 Many BJMC graduates opt for an MBA to elevate their careers within the media and communication sector.
An MBA opens doors to senior and managerial positions, such as CEO of a media company, editor-in-chief of a newspaper, or head of public relations for a major corporation.
The combination of BJMC and an MBA equips professionals with a unique skill set that combines media expertise with business acumen.
Transitioning into a Business Career:
An MBA provides an attractive pathway for BJMC graduates seeking a transition into the business realm.
With their journalism and communication background, these graduates are well-suited for roles such as marketing manager, sales manager, or product manager.
The MBA program equips them with business fundamentals and management skills to thrive in diverse corporate settings.
Entrepreneurship and Business Ownership:
BJMC graduates with entrepreneurial ambitions find great value in pursuing an MBA.
An MBA program imparts the essential skills needed to create a business plan, secure funding, and effectively manage a team.
This combination of degrees enhances their ability to succeed as business owners and entrepreneurs
General Benefits of an MBA for BJMC Graduates:
MBA programs sharpen critical thinking and analytical abilities, enabling graduates to approach complex business challenges with confidence. 

Graduates develop skills for making well-informed, data-driven decisions in various professional scenarios.
 Comprehensive Business Knowledge:
An MBA broadens one's understanding of business domains such as finance, marketing, operations, and strategy.

This holistic view of business operations fosters a deeper comprehension of how organizations function and excel.
Expanded Professional Network:
MBA programs offer numerous opportunities for networking with fellow business professionals, faculty, and alumni.

These connections prove invaluable for job hunting, business ventures, and securing investment capital.
Success Stories of BJMC Graduates with an MBA:
Oprah Winfrey:
Possesses a BJMC degree from Tennessee State University and an MBA from Northwestern University.
Leveraged her MBA to become a successful businesswoman, establishing a media empire that includes television, publishing, and film.
Jeff Zucker:
Holds a BJMC degree from Northwestern University and an MBA from Harvard Business School.
Used his MBA to ascend to senior management roles at NBCUniversal and CNN before becoming the CEO of Warner Bros. Discovery.
Anne Sweeney:
Earned a BJMC degree from Santa Clara University and an MBA from Harvard Business School.
Climbed the corporate ladder at the Walt Disney Company, eventually overseeing the media networks business.
Conclusion:
Pursuing an MBA after completing a BJMC degree is a strategic choice that unlocks diverse career opportunities. It enables professionals to bridge the gap between media expertise and business acumen, making them valuable assets in various industries. Successful individuals like Oprah Winfrey, Jeff Zucker, and Anne Sweeney exemplify the potential for BJMC graduates to thrive in leadership and management roles by combining their communication skills with MBA-level business knowledge. If you're considering this path, thorough research and networking within MBA programs can help you embark on a rewarding journey of personal and professional growth.
If you have any further questions or need additional guidance, please feel free to reach out our website 

[careerleaders.in]