The Bachelor of Management Studies (BMS) is a prestigious three-year undergraduate program that delves deep into the realms of management and business studies. It stands as a sought-after choice for students aspiring to venture into the world of business. The BMS entrance examination is renowned for its competitive nature, demanding students to undergo meticulous preparation to secure a spot.
Career Leaders stands out as a prominent institution providing online coaching for BMS entrances in Delhi. This esteemed coaching center offers a comprehensive program designed to encompass all facets of the BMS entrance exam. The program includes the following key features:
Live Online Classes:
Students enrolling in Career Leaders' program gain access to an array of live online classes. These sessions are not just standard lectures but are conducted by seasoned faculty members who are true experts in the field of BMS entrance exam preparation. These live classes offer students the unique opportunity to interact with their instructors in real-time, seeking clarification and engaging in discussions. The curriculum for these classes is continually updated to align with the evolving BMS entrance exam pattern.
Comprehensive Study Material:
One of the cornerstones of effective exam preparation is the availability of well-structured and comprehensive study materials. Career Leaders is known for offering meticulously designed study materials that cover the entire syllabus, ensuring that students have access to all the necessary resources for their preparation.
Experienced Faculty:
Career Leaders prides itself on its team of seasoned faculty members who possess in-depth knowledge of the BMS entrance exam syllabus. Their experience allows them to provide high-quality instruction and expert guidance to students.
Mock Tests and Practice Papers:
To excel in BMS entrance exams, students need to become accustomed to the exam format and develop strong test-taking skills. Career Leaders goes the extra mile by providing a range of mock tests and practice papers that simulate the actual exam conditions. This hands-on approach allows students to gain confidence and familiarity with the exam pattern.
Personalized Attention:
Smaller coaching institutes like Career Leaders have an advantage when it comes to offering personalized attention. With smaller class sizes, students often receive more individualized support, enabling instructors to address specific learning needs and resolve doubts effectively.
Regular Feedback and Assessment:
To gauge their progress and identify areas for improvement, students need continuous evaluation. Career Leaders is known for conducting regular assessments and feedback sessions, providing valuable insights into a student's performance and helping them refine their strategies.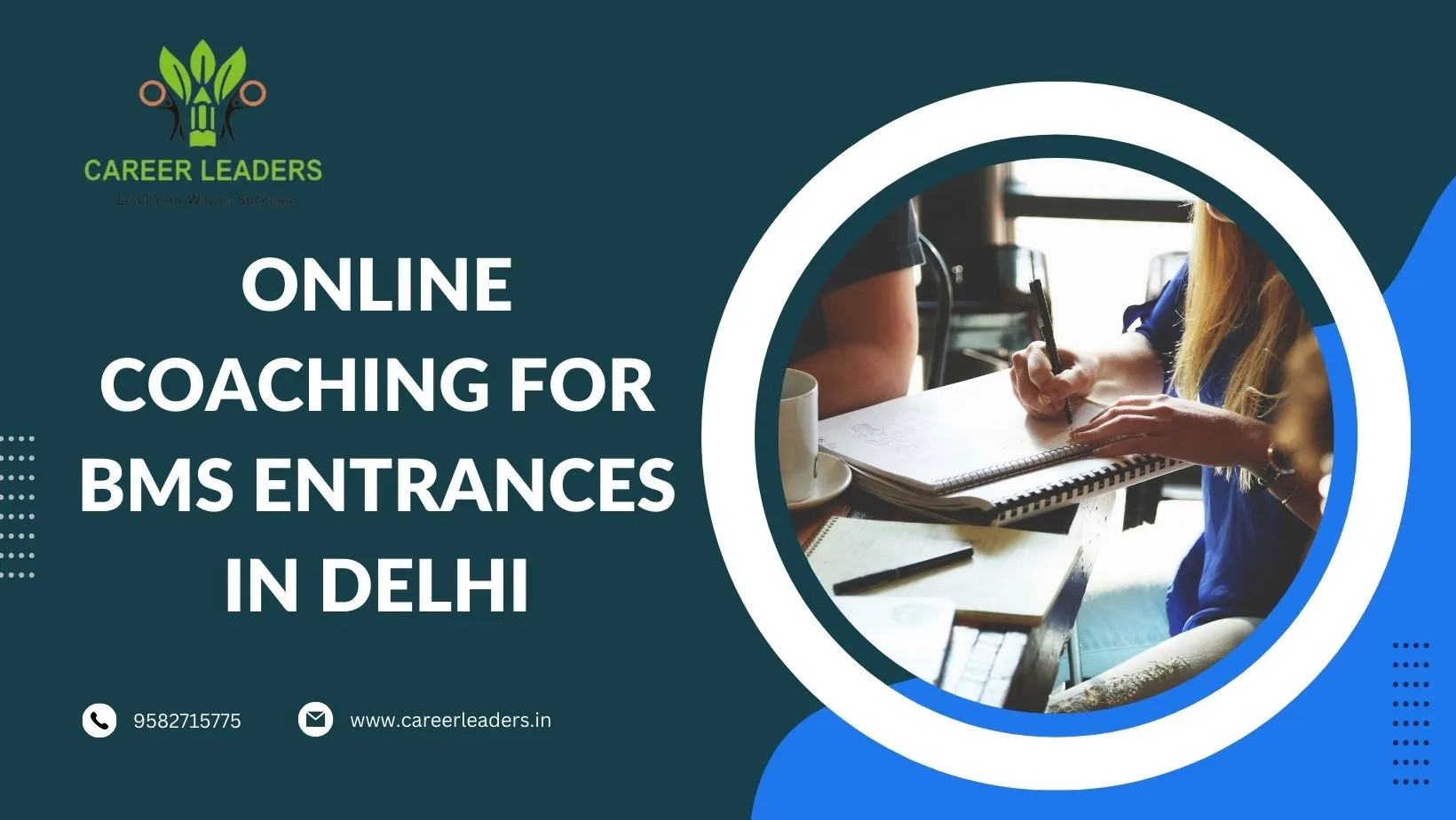 How to Enroll in Career Leaders' Online BMS Entrance Coaching Program?
The process of enrolling in Career Leaders' online BMS entrance coaching program is designed to be simple and accessible for aspiring students who are eager to embark on their educational journey. Below, we elaborate on the detailed steps involved in this enrollment process:
Initial Inquiry:
Interested students begin by expressing their desire to enroll in Career Leaders' online BMS entrance coaching program. This is typically initiated by visiting the institute's official website, which serves as a comprehensive hub of information and resources for prospective candidates.
Contacting the Admissions Team:
Once a student expresses interest, they can take the next step by reaching out to Career Leaders' admissions team. This team is readily available to provide guidance, address queries, and facilitate the entire enrollment process. They serve as a crucial bridge between the student and the coaching institute.
Eligibility Assessment:
The admissions team, consisting of experienced professionals, undertakes the responsibility of assessing the eligibility of each prospective student. This assessment is a crucial phase that ensures that the selected program aligns with the individual student's educational background, aspirations, and readiness. By considering a student's academic qualifications and goals, the team can recommend the most appropriate course.
Course Selection:
With a comprehensive understanding of the student's profile and preferences, the admissions team works closely with the aspiring candidate to guide them in selecting the most suitable BMS entrance coaching program. This collaborative approach is designed to optimize the student's learning experience and align it with their specific needs and goals.
Benefits of Online BMS Entrance Coaching:
Online BMS entrance coaching is a modern and highly advantageous approach to exam preparation, offering students a range of compelling benefits:
Diverse Learning Resources:
Online BMS entrance coaching programs often come equipped with a wide array of digital resources. These may include e-books, video lectures, interactive quizzes, and multimedia presentations. This diverse set of learning materials caters to various learning styles, making it easier for students to grasp complex concepts and reinforce their understanding.
Self-Paced Learning:
Online coaching allows for self-paced learning, enabling students to revisit and review lessons as many times as needed. This is particularly advantageous when dealing with challenging topics or when revising for exams. Self-paced learning accommodates individual learning speeds and preferences, ensuring a more comprehensive grasp of the subject matter.
Enhanced Technical Skills:
Engaging with online BMS entrance coaching fosters technological literacy and adaptability, skills that are increasingly valuable in today's digital age. As students navigate the online learning platform, they become more proficient in using various digital tools and platforms, which can be advantageous in their future academic and professional endeavors.
Wider Access to Expertise:
Online coaching allows students to connect with expert faculty and peers from across the globe. This broader reach means students have the opportunity to learn from a more diverse pool of educators and engage in discussions with fellow students with different backgrounds and perspectives. This enriching experience can enhance one's overall understanding of the subject matter.
Reduced Distractions:
Learning in the comfort of one's own space can often lead to reduced distractions compared to a bustling physical classroom. Students can create an environment that optimizes their focus and concentration, potentially improving their overall learning experience.
If you have any further questions or need additional guidance, please feel free to reach out our website 

[careerleaders.in]
Contact No:
+(91) 95827-15775