The National Council for Hotel Management NCHM JEE and Catering Technology Joint Entrance Examination (NCHM JEE) is your ticket to prestigious undergraduate programs in hotel management and catering technology offered by institutions affiliated with NCHMCT.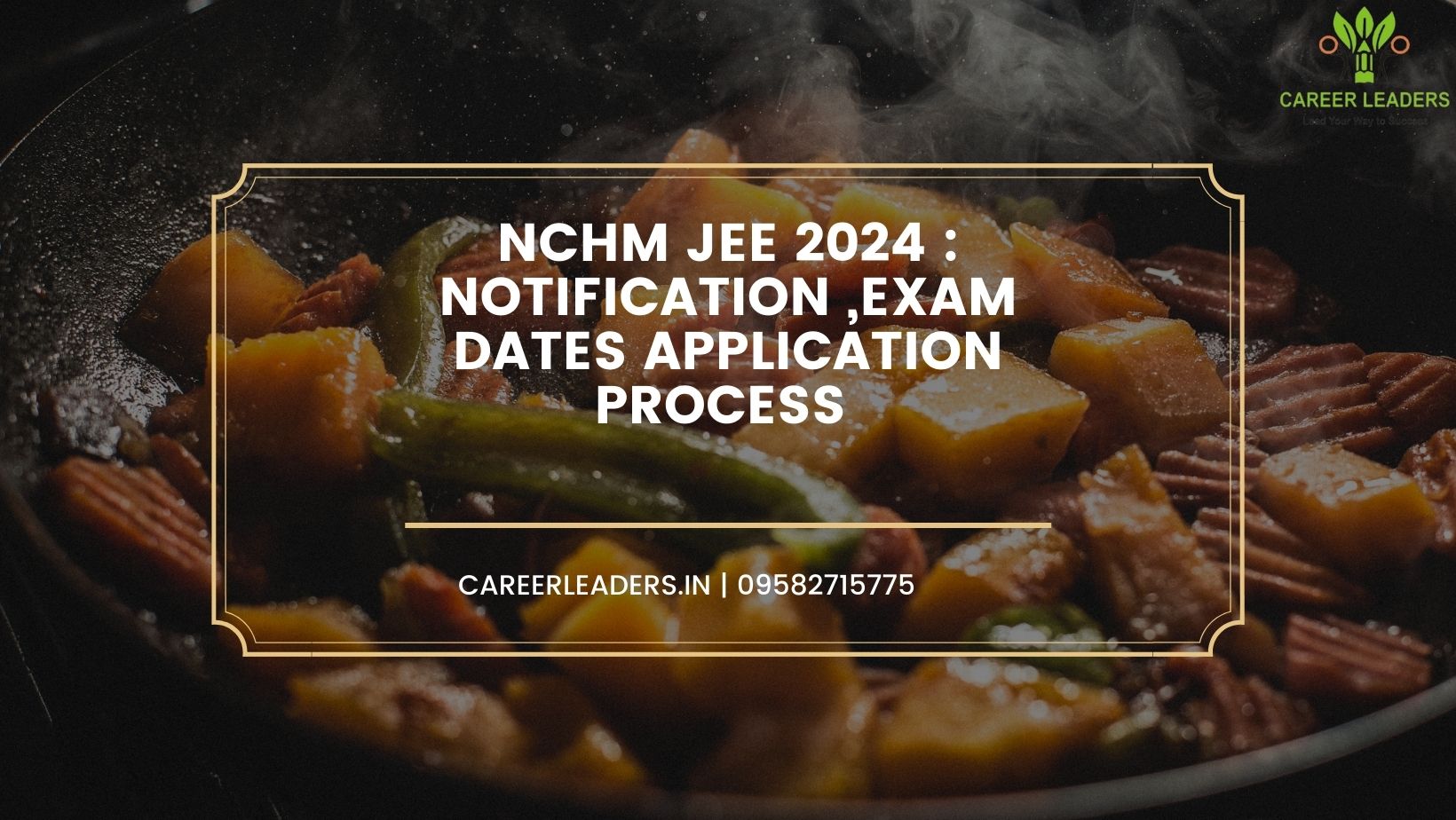 Mark Your Calendar: Exam Dates
The NCHM JEE 2024 examination is projected to take place in May 2024. Keep an eye out for the exact date within the notification.
Applying for Success: The Application Process
From February 2024 onwards, you can kickstart your NCHM JEE journey by embarking on the application process. The National Testing Agency (NTA) is your online gateway for submitting your application.
To begin, create an account on the NTA website, diligently fill out the application form, and upload scanned copies of your passport-sized photograph and signature. Keep in mind that the application fee for NCHM JEE 2024 is expected to be INR 1000 for general and OBC candidates, and INR 700 for SC/ST and PwBD candidates.
Eligibility Criteria: Are You Eligible?
Make sure you meet the eligibility criteria for NCHM JEE 2024:
Successful completion of 10+2 or an equivalent examination from a recognized board.
If you're appearing for your 10+2 or equivalent examination in 2024, you're eligible to apply.
No age limit constraints exist for NCHM JEE 2024 aspirants.
Syllabus: What to Study
Prepare for NCHM JEE 2024 by delving into these subjects:
English Language: Assess your comprehension, vocabulary, and grammar skills.
Quantitative Techniques: Sharpen your mathematical and analytical prowess.
Reasoning Ability: Cultivate logical thinking and problem-solving skills.
General Knowledge: Stay updated on current events and affairs.
Preparation Strategies: The Path to Success
To excel in NCHM JEE 2024, consider the following strategies:
Early Start:
Given the extensive syllabus, commence your preparations early to cover all topics effectively.
Resource Selection: Choose the right study materials that align with your learning style, such as books, online courses, and mock tests.
Regular Practice: Regularly practice with previous years' question papers and mock tests to acquaint yourself with the exam pattern and question types.
Weakness Focus: Identify your weak areas and dedicate time to improve them during your preparation.
Exam Day Serenity: On the day of the exam, ensure you're well-rested and nourished to maintain focus and composure.
Mock Tests:
Apart from practicing previous year's question papers, regularly take full-length mock tests to simulate exam conditions and assess your time management skills.
Time Management: Develop a study schedule that allocates sufficient time to each section of the exam. Time management is crucial, especially in exams with multiple sections.
Subject Proficiency: Identify your strengths and weaknesses in each subject. Concentrate on your weaknesses while maintaining and enhancing your strengths.
Revision: Schedule time for regular revisions. This helps reinforce what you've learned and improve retention.
Stay Informed: Keep yourself updated with the latest industry trends and current affairs, particularly in the hospitality and catering industry.
NCHM JEE 2024 presents a gateway to an exciting career in hospitality management. Begin your journey with comprehensive preparation and stay tuned for the official notification. If you have further questions or need additional guidance, feel free to reach out.
If you have any further questions or need additional guidance, please feel free to reach out our website 

[careerleaders.in]