Delhi University's Economics (Hons) program is renowned for its quality and competitiveness. To secure your spot in this prestigious program, excelling in the CUET exam is essential. Fortunately, there are several CUET coaching institutes that specialize in Economics (Hons) preparation.
When selecting a coaching institute, consider these crucial factors:
Experienced Faculty: Look for institutes with a faculty experienced in teaching Economics (Hons) and guiding students through the CUET exam.

Quality Study Materials: Ensure the coaching institute provides comprehensive study materials that cover the entire CUET syllabus.

Success Rate: Check the institute's track record in helping students gain admission to Economics (Hons) at Delhi University.
Here are some top CUET coaching institutes in Delhi for Economics (Hons):
IMS Learning Resources
Career Launcher
VidyaMandir Classes
Aakash Institute
FIITJEE
These institutes offer a range of courses, including online and offline options, crash courses, and weekend classes. Select the one that aligns best with your needs and budget.
While coaching institutes offer valuable guidance, you can also prepare for the CUET exam independently. Here are self-preparation tips:
Study Plan: Organize your study schedule by breaking down the CUET syllabus into manageable sections.

Study Materials: Gather essential resources such as textbooks, notes, practice tests, and online study materials.

Target Weaknesses: Identify your challenging areas and allocate extra study time to them.

Practice Tests: Take practice tests to become familiar with the exam format and pinpoint areas requiring improvement.

Review Thoroughly: Ensure a deep understanding of all concepts covered in the CUET syllabus
Securing admission to Economics (Hons) at Delhi University is a significant achievement, and with the right coaching or self-preparation, you can embark on this rewarding academic journey.
Delhi University (DU) stands tall as one of India's most esteemed institutions, renowned for its competitive Economics (Hons) program. This program has garnered acclaim for its challenging curriculum and distinguished faculty. Let's delve into why pursuing Economics (Hons) at DU is an enticing choice:
Distinguished Faculty: DU's Economics department boasts a faculty of seasoned experts who are deeply passionate about imparting knowledge and nurturing academic growth.
Rigorous Curriculum: The Economics (Hons) program at DU presents a comprehensive curriculum spanning microeconomics, macroeconomics, and econometrics, providing students with a well-rounded understanding of the subject.
Strong Placement Opportunities: Graduates from DU's Economics (Hons) program find themselves in high demand across various sectors, including government, banking, finance, and consulting, opening doors to diverse and rewarding career paths.
Robust Alumni Network: DU takes pride in its extensive network of Economics (Hons) alumni who have achieved remarkable success in diverse fields. This network serves as an invaluable resource for students, offering mentorship and career guidance
Beyond these compelling reasons, here are additional benefits of choosing Economics (Hons) at DU:
Cultural Diversity: DU is a melting pot of cultures, attracting students from every corner of India. This exposure to diverse perspectives enriches the academic experience.
World-Class Facilities: The university offers state-of-the-art facilities, including libraries, laboratories, and computer labs, ensuring students have access to the resources required for academic excellence.
Affordable Education: As a public university, DU offers highly affordable tuition fees, making quality education accessible to students from varied socioeconomic backgrounds.
In conclusion, pursuing Economics (Hons) at Delhi University offers a prestigious and rigorous academic journey. With exceptional faculty, robust placement opportunities, and an extensive alumni network, DU provides the ideal platform for aspiring economists. If you have a passion for economics, DU's Economics (Hons) program is a compelling choice worth considering
Delhi University's B.A. program stands as a testament to academic excellence, offering a comprehensive and rigorous undergraduate journey through the realms of arts and humanities. Let's delve into the key learnings and benefits that this esteemed program has to offer:
Critical Thinking and Problem-Solving: The B.A. program from Delhi University is meticulously crafted to cultivate critical thinking and problem-solving acumen. Students are mentored to dissect intricate problems, discern and evaluate diverse perspectives, and proficiently articulate their own viewpoints.
Communication and Writing Proficiency: A hallmark of this program is its emphasis on communication and writing skills. Students are adeptly trained to convey their ideas with precision and impact, both verbally and in writing. This encompasses a gamut of writing styles, including academic, journalistic, and creative forms
Exploration of Multifarious Disciplines: The program offers students a panoramic view of various academic disciplines, including history, philosophy, literature, economics, and political science. This exposure fosters a holistic understanding of the multifaceted world.
Pathways to Further Education and Career Readiness: Graduates of this program are well-prepared for both advanced studies and the professional arena. Armed with a versatile skill set, they can pursue diverse fields such as law, medicine, business, and academia. Additionally, they are primed for entry-level roles across various industries.
Beyond these pivotal learnings, Delhi University's B.A. program nurtures personal and social skills. Students become adept at both independent and collaborative work, efficient time management, and striking a harmonious balance between academics and extracurricular pursuits, including sports, clubs, and student government.
In summary, Delhi University's B.A. program is a profound educational journey that readies students for academic and professional triumphs. It not only imparts knowledge but also shapes well-rounded individuals equipped for the challenges and opportunities of the world.
What are the key learnings of Economics (Hons) from Delhi University 
Delhi University's Economics (Hons ) is a robust and all-encompassing undergraduate curriculum, encompassing a diverse array of subjects within the realm of arts and humanities. This program is meticulously structured to empower students with a multifaceted skill set, encompassing critical thinking, communication prowess, research acumen, and analytical dexterity. Moreover, it offers exposure to a myriad of academic disciplines while adeptly preparing students for the challenges of graduate school and the professional world.
Delhi University offers a comprehensive Economics (Hons) program, encompassing various vital domains:
Microeconomics: Delving into the intricacies of consumer and firm behavior within the marketplace, covering pivotal aspects like supply and demand, market structures, and welfare economics.
Macroeconomics: Examining the broader economic landscape, encompassing topics like national income accounting, economic growth, inflation, and unemployment. Students also explore the influence of government policies in economic management.
International Economics: Unpacking the world of international trade and finance, including discussions on tariffs, quotas, exchange rates, and the balance of payments. The program also scrutinizes the repercussions of global trade and finance on domestic economies.
Economic Development: Understanding the dynamics of economic growth and development, along with the contributing factors. Students tackle the challenges encountered by developing nations and the role of public policy in fostering economic progre
Quantitative Economics:

Equipping students with mathematical and statistical tools to analyze economic data and validate economic theories. This comprises topics like calculus, econometrics, and regression analysis.
In addition to these core subjects, Economics (Hons) students at Delhi University have the liberty to opt for elective courses in specialized areas, including environmental economics, public finance, and labor economics.
Admission creteria for Economics (Hons) from Delhi University
If you aspire to pursue Economics (Hons) at Delhi University, it's essential to understand the admission criteria:
Educational Qualification: Candidates must have successfully completed Class 12th or an equivalent examination from a recognized board or university.
Academic Performance: A minimum aggregate score of 55% in Class 12th is mandatory for eligibility.
CUET UG-2023 should align with the Languages/Domain-Specific Subjects you studied or are appearing for in Class XII.
During admission, you'll need to match the subjects you studied in Class XII with the Languages/Domain-Specific Subjects in CUET(UG)-2023.
Once CUET UG results are released, Delhi University will announce cut-off marks for various courses. Meeting these cut-offs is the first step to being eligible for the admission process. Delhi University conducts centralized admissions for all its undergraduate programs.
The admission criteria for Economics (Hons) at Delhi University are competitive, but with dedicated preparation, candidates can enhance their prospects of securing a place in this prestigious program.
Exam date for CUET  UG for Economics (Hons) from Delhi University
While the exact dates for the Economics Domain-Specific Test will be disclosed by the National Testing Agency (NTA) closer to the examination window, candidates are advised to regularly visit the NTA website to stay updated on the exam schedule
The CUET UG exam is scheduled to be held from May 15 to May 31, 2024. With approximately 8 months left to prepare, students have a substantial window of opportunity to ready themselves for this significant academic challenge.
To maximize your chances of success in the Economics Domain-Specific Test, consider the following preparation tips:
The CUET UG exam will be conducted in a computer-based mode, offering a modern and efficient testing platform. Candidates will have a total of 3 hours to complete the exam.
Effective Preparation Strategies:
Create a Comprehensive Study Plan: Begin by crafting a study plan that encompasses the entire syllabus. Ensure that you break down the syllabus into manageable segments and allocate sufficient time to study each topic.
Gather Study Materials: Collect all necessary study materials, including textbooks, notes, practice tests, and online resources, to facilitate your learning process.
Address Weaknesses: Identify the subjects or topics where you face challenges and allocate extra study time to master them. A well-rounded preparation is crucial for success.
Take Practice Tests: Regularly take practice tests to familiarize yourself with the exam's format and identify areas requiring further improvement.
Review Thoroughly: Periodically review your notes and textbooks to ensure a firm grasp of all concepts that may appear in the exam.
In conclusion, the CUET UG exam is a crucial milestone for students aspiring to pursue undergraduate studies in central universities and other renowned institutions. By following these tips and preparing diligently, students can enhance their prospects of success on this significant academic journey.
Eligibility creteria for CUET UG for Economics ( Hons) from Delhi University 
If you're considering pursuing Economics (Hons) at Delhi University, it's crucial to be well-informed about the eligibility criteria and admission process:
General Eligibility for CUET UG:
Candidates must have passed the Class 12 exam or an equivalent from a recognized board.
There is no age limit for CUET UG applicants.
Specific Eligibility for Economics (Hons ) at DU:
Successful completion of Class 12 or an equivalent examination from a recognized board of school education.
Attainment of a minimum aggregate of 45% marks in one language from List A and a combination of the best three other subjects from Lists A and B, including Mathematics.
Participation in the Central University Entrance Test (CUET UG) and achieving a minimum score in the Economics Domain-Specific Test.
List A (Languages): English, Hindi, Urdu, Bengali, Punjabi, Gujarati, Marathi, Tamil, Telugu, Kannada, Malayalam, Assamese, Odia, Konkani, Nepali, Manipuri, Kashmiri, Dogri, Sanskrit.
List B (Subjects): Mathematics, Physics, Chemistry, Biology, Computer Science, Electronics, Informatics Practices, Economics, Business Studies, Accountancy, Geography, History, Political Science, Sociology, Psychology, Home Science, Fine Arts, Physical Education.
Candidates must take CUET UG in the Languages/Domain-Specific Subjects corresponding to their Class XII subjects.
During admission, subjects studied in Class XII must align with Languages/Domain-Specific Subjects in CUET(UG)-2023.
Age limit for CUET UG for Economics (Hons) from Delhi University
Delhi University's Economics (Hons) program under CUET UG welcomes students of all ages, with no age restrictions in place. This progressive approach opens doors for individuals of any age who fulfill the other eligibility criteria.
Here are some compelling reasons why the absence of an age limit in CUET UG is a significant advantage:
Maturity and Preparation: It grants students additional time to mature and adequately prepare for their undergraduate studies. This can be especially valuable for those who may have diverse life experiences.
Work and Volunteer Experience: It provides students with the opportunity to gain valuable work or volunteer experience before embarking on their college journey. This practical exposure can be a significant asset in shaping their academic path.
Gap Year Possibilities: For students considering a gap year, whether to travel, explore personal interests, or acquire new skills, the absence of an age limit facilitates this choice. It encourages diverse experiences that can enrich one's academic journey.
Accessibility: By removing age barriers, undergraduate education becomes more accessible to individuals from varied socioeconomic backgrounds. It promotes inclusivity and diversifies the student population.
If you're interested in pursuing Economics (Hons) at Delhi University, regardless of your age, you're encouraged to apply. With determination and dedication, you can undoubtedly achieve your academic aspirations, supported by an environment that values diversity and personal growth.
Number of seats in Delhi University for Economics Hons college.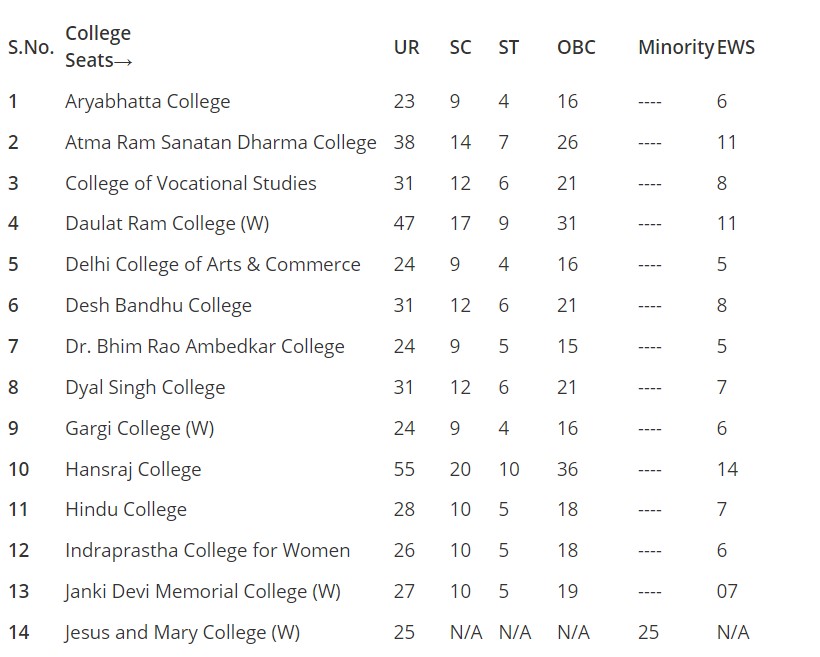 Detailed Syllabus for CUET UG for Economics (Hons ) from Delhi University
To excel in the CUET UG Economics (Hons) examination at Delhi University, it's essential to have a solid grasp of the comprehensive syllabus. Here's an informative breakdown of the syllabus:
Unit 1: Introduction to Microeconomics
Understanding the nature and scope of economics
Differentiating between Microeconomics and Macroeconomics
Exploring Production Possibility Frontier (PPF) and Opportunity Cost
Analyzing market equilibrium through Demand and Supply Analysis
Examining consumer behavior, including Utility theory and the Law of Diminishing Marginal Utility
Delving into various market structures: Perfect Competition, Monopoly, Monopolistic Competition, Oligopoly
Unit 2: National Income and Related Aggregates
Exploring concepts and measurement of National Income Accounting
Distinguishing between GDP, GNP, and NNP
Understanding GDP Deflator and its relation to inflation
Investigating Economic Growth and Development
Unit 3: Money and Banking
Functions and types of money
Central Bank functions and role
Functions of commercial banks
Instruments of monetary policy
Unit 4: Determination of Income and Employment
Classical theory of income and employment (Say's Law)
Keynesian theory of income and employment
Aggregate demand and supply analysis
Fiscal and monetary policy implications
Unit 5: International Economics
Balancing of payments
Foreign exchange rates
Various trade theories, including Classical theory of comparative advantage and Heckscher-Ohlin theorem
Trade policies such as Tariffs, quotas, and subsidie
Unit 6: Development Economics
Theories of economic development: Classical theory, Neoclassical theory, Structuralist theory, Post-development theory
Understanding underdevelopment and poverty
Population and development dynamics
Environment's role in economic development
Unit 7: Quantitative Economics
Descriptive statistics: Measures of central tendency, dispersion, skewness, kurtosis
Inferential statistics: Hypothesis testing, regression analysis
Unit 8: Mathematics for Economics
Functions and their graphical representations
Calculus: Differentiation and integration
Linear algebra: Matrices and determinants
Given the extensive syllabus, candidates are advised to initiate their preparation early and prioritize conceptual understanding. Here are some valuable preparation tips for the CUET UG Economics Domain-Specific Test:
Utilize a reliable textbook or study guide to cover the entire syllabus.
Practice solving numerical problems and multiple-choice questions (MCQs).
Take advantage of mock tests to acclimate yourself to the exam format.
Regularly revise the syllabus to reinforce your understanding.
Exam pattern for CUET UG for Economics (Hons) from Delhi University 
To excel in the CUET UG examination for Economics (Hons) at Delhi University, it's vital to be well-informed about the exam pattern. Here's a comprehensive overview
The CUET UG exam unfolds in two distinct phases.
In this initial phase, there are three sections:

Section IA (Language)
Section IB (Language)
Section II (Domain-Specific Subjects)

Each of these sections comprises objective-type questions (Multiple Choice Questions – MCQs).
Candidates have 45 minutes for each section.
The second phase features Section III (General Test).
Like the previous sections, Section III consists of objective-type questions (MCQs).
Candidates are allotted 45 minutes for this section.
This exam pattern is designed to comprehensively assess candidates' language proficiency, domain-specific knowledge in economics, and general aptitude. It's crucial to manage time effectively and strategize accordingly during each phase to maximize your performance in the CUET UG examination.
What is the good score in CUET for Economics (Hons) from Delhi University
If you wish to secure the seat in Top 3 colleges in Delhi University for B.A(P) then you should score anything beyond 785+ out of 800 marks. In terms of percentile score 99+ Percentile can fetch you the admission in Top 3 DU colleges. It also varies as per the reservation category. We advise you to visit Delhi University admission list for previous years.
How to prepare for Economics (Hons) entrance in 2 months
Embarking on a 2-month journey to prepare for the Economics (Hons) entrance exam requires a well-structured plan. Here's a month-by-month guide to help you make the most of your preparation time:
Month 1: Building the Foundation
Understand the Syllabus and Format: Begin by thoroughly understanding the exam syllabus and format. Create a comprehensive list of covered topics and grasp the exam's structure, including question types and marking schemes.
Master the Basics: If you're new to economics, start with the fundamentals. Dive into microeconomics, macroeconomics, and international economics. Utilize textbooks and online resources to build a strong foundation.
Conceptual Understanding: Avoid mere memorization of facts and figures. Strive to comprehend the underlying concepts and their real-world applications.
Problem Solving: Once you have a solid grasp of the concepts, focus on practical application. Practice solving problems to reinforce your understanding and pinpoint areas of weakness.
Mock Tests:

Take mock tests to replicate the real exam environment. This not only familiarizes you with the format but also highlights areas requiring improvement.
Month 2: Refining and Strengthening
Continuous Revision: Throughout your preparation, revisit the basics regularly. This reinforces your knowledge and prevents critical concepts from slipping your mind.

Tackle Weaknesses: Identify topics that pose challenges and dedicate ample time to revising them thoroughly. Seek assistance from tutors or mentors if necessary.

More Mock Tests: Keep taking mock tests on a consistent basis. This sharpens your speed, accuracy, and helps pinpoint any remaining areas that demand attention.

Stay Calm and Confident: As the exam date approaches, prioritize maintaining a calm and confident demeanor. Ensure a good night's sleep, a healthy breakfast on the day of the exam, and timely arrival at the exam center. Read the instructions carefully.
With dedication, a well-thought-out plan, and effective study strategies, you can make the most of your 2-month preparation window for the Economics (Hons) entrance exam. Stay focused, motivated, and remember that a strategic approach is key to success.
What is the difference between B.A Economics program and B.A Economics (Hons) 
B.A. Economics is a general undergraduate program that introduces students to the fundamental principles of economics.
It covers essential areas like microeconomics, macroeconomics, and international economics.
Ideal for individuals keen on gaining a foundational understanding of how economies operate, even if they don't plan to pursue a career specifically in economics.
B.A. Economics (Hons) is a more specialized program designed to offer students a deeper and more comprehensive insight into the field of economics.
It delves into a broader range of topics, encompassing econometrics, mathematical economics, and development economics, among others.
Suited for students who aspire to pursue a career in economics or those who plan to pursue advanced studies in economics at the postgraduate level.
Both programs have their merits and cater to different educational and career goals. Choosing between them depends on your personal interests and aspirations within the field of economics.
Disclaimer:

This information is based on the research that our content team had .The information can be rechecked by the aspirants before making any decision also visit university website for the updated information.
If you have any further questions or need additional guidance, please feel free to reach out our website 

[careerleaders.in]