The Common Law Admission Test (CLAT) is a highly anticipated and competitive examination that opens doors to prestigious National Law Universities (NLUs) in India. As the CLAT 2023 unfolded on May 28, 2023, aspiring law students faced a significant challenge in navigating the exam's difficulty level. This blog delves into the intricacies of CLAT 2023's difficulty level, offering a comprehensive analysis of each section and its overall impact on aspiring law aspirants.
English:
The English section, a quintessential part of CLAT, retained a moderate difficulty level. It focused on assessing candidates' comprehension and vocabulary skills. The passages were of moderate length, and the questions were designed to evaluate the ability to grasp nuances, infer meanings, and identify grammatical structures.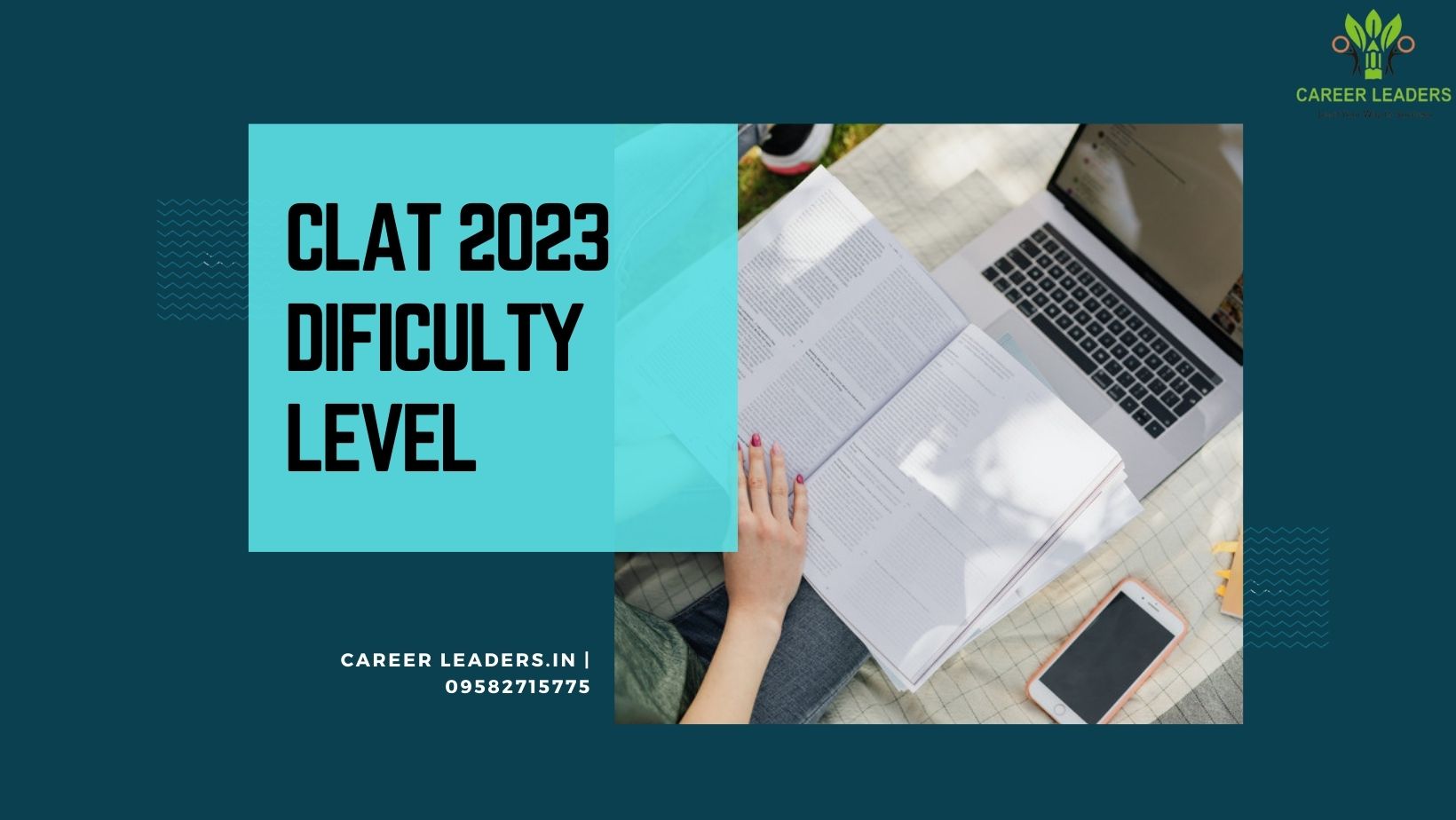 Current Affairs:
The Current Affairs section proved to be moderately difficult. It covered a wide spectrum of topics, ranging from recent national and international events. To tackle this section effectively, candidates needed a strong grasp of current affairs and the analytical reasoning skills to comprehend and answer questions accurately.
Legal Reasoning:
The Legal Reasoning section presented a blend of moderate and challenging questions. It combined both straightforward and complex legal propositions. Success in this section depended on a solid foundation in legal concepts and the ability to apply them to hypothetical scenarios.
Logical Reasoning:
The Logical Reasoning section maintained a moderate to difficult level. It featured questions involving puzzles, diagrams, and logical deductions. Navigating this section successfully required candidates to possess strong analytical skills, identify patterns, and make logical connections.
Quantitative Techniques:
The Quantitative Techniques section emerged as the most challenging part of CLAT 2023. It featured questions involving complex calculations, data interpretation, and the application of mathematical concepts. Succeeding in this section demanded a strong background in mathematics and aptitude.
CLAT 2023, as a whole, posed a moderate to difficult challenge for aspiring law students. It tested not only knowledge but also aptitude, comprehension, and analytical skills across various domains. While some sections, like English and Current Affairs, maintained a moderate difficulty level, others, such as Legal Reasoning, Logical Reasoning, and Quantitative Techniques, raised the bar with their complexity.
Implications for Aspirants:
The difficulty level of CLAT 2023 underscores the need for comprehensive preparation and strategic time management during the exam. Aspiring law students should concentrate on enhancing their analytical skills, staying updated with current affairs, and mastering legal concepts. Regular practice with mock tests and previous years' papers can aid in understanding the exam's pattern and developing effective time management strategies.
CLAT 2023, with its moderate to difficult difficulty level, emphasizes the significance of rigorous preparation and efficient exam-taking skills. Instead of being disheartened by the challenge, aspiring law students should view it as an opportunity to refine their preparation strategies and boost their analytical abilities. By maintaining unwavering dedication and adopting a strategic approach, they can excel in CLAT and secure coveted positions in India's esteemed NLUs. Success in CLAT awaits those who embrace the challenge with determination and a well-rounded preparation strategy.
CLAT 2023 Difficulty Level with more points:
Time Management:
Effective time management is crucial in tackling a moderately difficult or challenging exam like CLAT 2023. Aspirants should practice time-bound mock tests to learn how to allocate time to each section efficiently.
Consistency in Preparation:
Consistency is key to mastering complex sections. Aspirants should maintain a regular study routine, reviewing concepts, practicing questions, and staying updated with current affairs.
Mock Tests and Sample Papers:
Mock tests and sample papers are invaluable resources for gauging one's readiness for the actual exam. Regular practice with these resources allows candidates to assess their strengths and weaknesses.
Seeking Guidance:
Aspirants facing challenges in certain sections, such as Quantitative Techniques, may benefit from seeking guidance from experienced mentors or enrolling in coaching programs to strengthen their weak areas.
Balanced Approach:
While focusing on areas of difficulty, it's important for aspirants to also excel in sections where they are already strong. A balanced approach ensures that they maximize their scores in all sections.
Staying Informed:
Keeping abreast of current events and legal developments is essential. Regular reading of newspapers, magazines, and online resources can enhance performance in the Current Affairs and Legal Reasoning sections.
Self-Assessment:
Aspirants should periodically assess their progress. Self-assessment helps in identifying areas that require additional attention and fine-tuning of preparation strategies.
Positive Mindset:
A positive mindset and confidence are critical. Believing in one's abilities and staying motivated through the ups and downs of preparation can significantly impact performance.
Resilience:
Preparing for a moderately difficult or challenging exam can be mentally taxing. Developing resilience and coping strategies to manage stress and pressure is vital for success.
Post-Exam Analysis:
After the exam, reviewing the performance objectively can provide insights into what went well and what needs improvement. Aspirants can learn from their experiences to enhance future attempts.
In conclusion, CLAT 2023, with its mix of moderately difficult and challenging sections, underscores the importance of a holistic and structured preparation approach. Aspirants should embrace the difficulty as an opportunity to grow and refine their skills. By adopting a balanced approach, seeking guidance when needed, and staying committed to their goals, aspiring law students can conquer the challenges of CLAT 2023 and secure their place in India's prestigious NLUs.
If you have any further questions or need additional guidance, please feel free to reach out our website 

[careerleaders.in]