The Consortium of National Law Universities (NLUs) has unveiled the application form for the eagerly awaited Common Law Admission Test (CLAT) 2024. Mark your calendars for December 3, 2023, as this is when the offline exam is set to take place.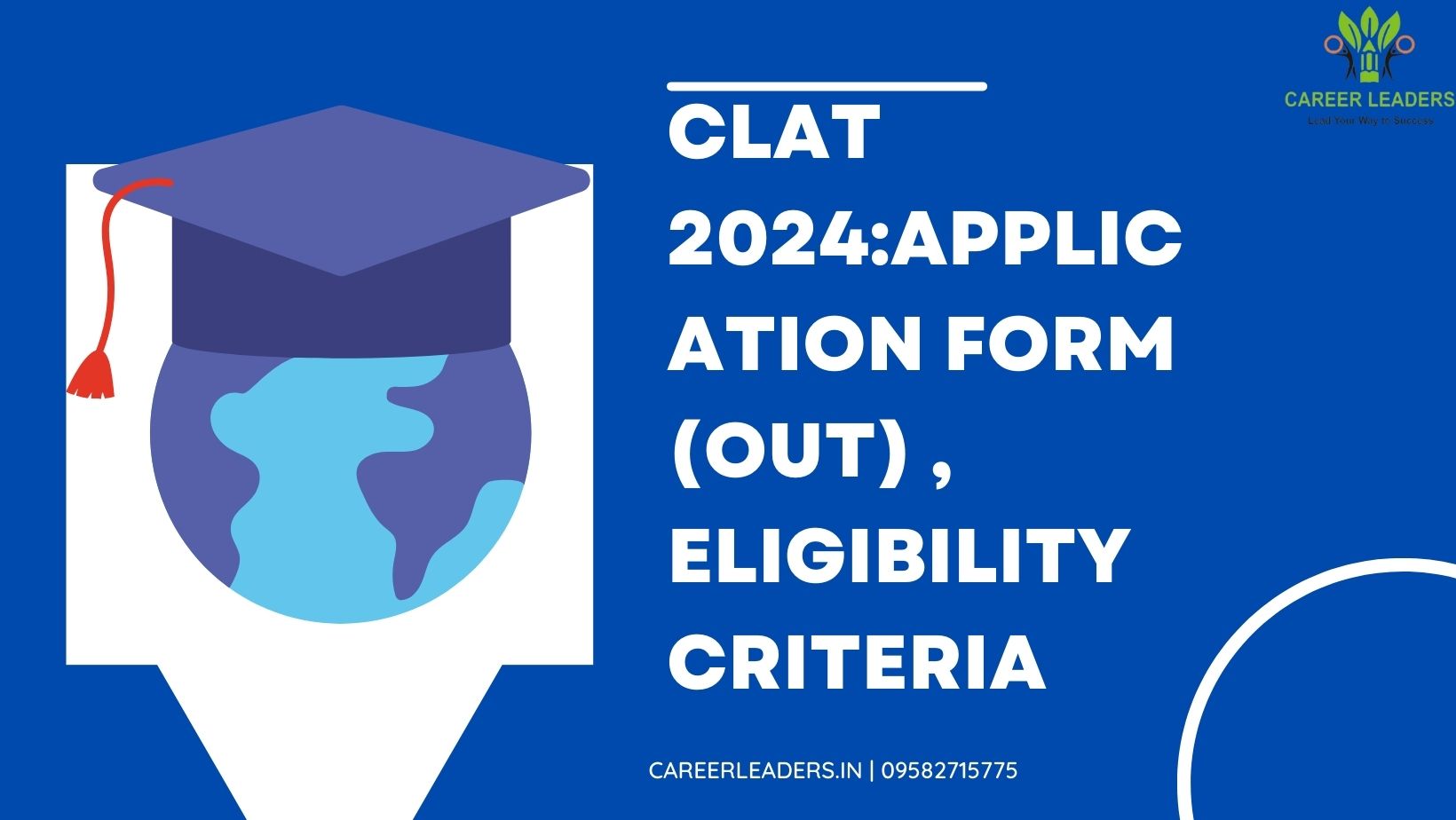 Application Form: Your First Step
The CLAT 2024 application form can be conveniently accessed online on the official Consortium of NLUs website. Candidates can complete the form and submit the application fee online. Be sure to mark November 3, 2023, as the deadline for submitting your application.
Key Dates to Remember
Stay ahead of the game with these crucial CLAT 2024 dates:
Application Form Release: Commencing from July 1, 2023
Last Date to Apply: November 3, 2023
Exam Date: December 3, 2023
Result Declaration: Expected in January 2024
CLAT 2024 Eligibility Criteria
Educational Qualification:
Candidates must have successfully passed the 10+2 examination or an equivalent qualification from a recognized educational board.
Students who are in the process of completing their 10+2 or equivalent examination in the year 2023 are also eligible to apply for CLAT 2024.
Age Limit:
There is no specified age limit for candidates appearing in CLAT 2024. This means that candidates of all age groups are eligible to apply for the exam.
Nationality:
CLAT 2024 is open to Indian nationals as well as Non-Resident Indians (NRIs) and foreign nationals. However, there may be specific seat reservations or eligibility conditions for NRI and foreign national candidates in some participating NLUs (National Law Universities).
It's important for candidates to meet these eligibility criteria to be eligible for the CLAT 2024 examination. Keep in mind that while the eligibility criteria are uniform across NLUs, each participating NLU may have specific admission policies and seat reservations, so it's advisable to refer to the official CLAT website and the individual websites of the participating NLUs for any additional eligibility conditions or requirements.
Candidates should also ensure that they provide accurate and valid documents to verify their eligibility during the admission process. It's recommended to carefully review the official CLAT notification for CLAT 2024 when it becomes available to confirm the eligibility criteria and any specific instructions.
English Language:
Comprehension passages.
Synonyms and antonyms.
Homonyms.
Spelling and grammar.
Idioms and phrases.
Fill in the blanks.
Current Affairs:
Events of national and international importance.
Current events in the areas of sports, art, culture, and entertainment.
Important international treaties and agreements.
Legal developments and news.
Legal Reasoning:
Questions in this section will test a candidate's ability to understand and apply legal principles, rules, and reasoning.
Topics may include legal propositions, legal terms, major court decisions, and case laws.
Quantitative Techniques:
Elementary mathematics.
Numerical ability.
Arithmetic, percentage, and fraction.
Data interpretation.
Ratio and proportion.
Algebra.
Geometry.
Logical Reasoning:
Syllogisms.
Logical sequences.
Analogies.
Patterns.
Logical puzzles.
Assumptions and conclusions.
Inferences.
Please note that the questions in the CLAT exam may be based on legal knowledge, current affairs, and reasoning. The exact weightage of each section and the level of difficulty can vary from year to year. Therefore, it's advisable to consult the official CLAT website and the official notification for CLAT 2024 to get the most accurate and up-to-date information about the syllabus and any specific instructions or changes for this particular year's examination.
Effective Preparation for Success
1. Understand the Exam Pattern:
Begin by thoroughly understanding the CLAT exam pattern, which includes the number of sections, types of questions, and marking scheme. This will help you structure your study plan.
2. Create a Study Plan:
Develop a study plan that covers all subjects and sections of the CLAT syllabus. Allocate sufficient time to each subject and prioritize your weaker areas.
3. Study Material:
Choose the right study material, which can include standard CLAT preparation books, online courses, and mock tests. Consider the following resources:

CLAT study guides and books.
Online mock test series.
Previous years' question papers.
4. Consistent Practice:
Regular practice is crucial. Solve previous years' question papers, take mock tests, and set a timer to improve your time management skills.
5. Time Management:
Manage your time effectively during the exam. Practice answering questions within the allocated time for each section.
6. Logical Reasoning:
For logical reasoning, practice solving puzzles, syllogisms, and logical sequences regularly. These questions can be challenging, so practice is key.
7. Legal Reasoning:
Improve your understanding of legal principles and case laws. Read about landmark cases and understand how legal concepts are applied.
8. Current Affairs:
Stay updated with current events and legal developments. Read newspapers, magazines, and online news sources regularly.
9. English Language:
Enhance your vocabulary and grammar skills. Read books, newspapers, and articles to improve your comprehension and language skills.
10. Quantitative Techniques:
Work on your mathematical and numerical abilities. Practice solving quantitative questions to improve your proficiency in this area.
11. Revision:
Regularly revise what you've studied to retain information and reinforce your understanding of key concepts.
12. Mock Tests:
Take mock tests and simulate exam conditions to evaluate your performance. Analyze your strengths and weaknesses based on mock test results.
13. Seek Guidance:
If needed, consider enrolling in a CLAT coaching program to receive expert guidance and support in your preparation.
14. Maintain Health:
Ensure a healthy lifestyle with proper sleep and a balanced diet, especially in the days leading up to the exam.
15. Stay Positive:
Maintain a positive mindset and stay confident in your abilities. Anxiety can affect performance, so practice relaxation techniques if necessary.
Remember that CLAT preparation is not just about rote learning but also about understanding concepts and applying them effectively. Tailor your preparation to your strengths and weaknesses and adapt your study plan as needed. Consistency and dedication are key to achieving success in the CLAT exam.
If you have any further questions or need additional guidance, please feel free to reach out our website 

[careerleaders.in]