Bachelor of Arts in Journalism and Mass Communication (BAJMC) and Bachelor of Journalism and Mass Communication (BJMC) are two undergraduate programs that share similarities yet possess distinct characteristics. To make an informed decision between these programs, it's essential to delve into their differences and understand which aligns better with your career aspirations.
Bachelor of Arts in Journalism and Mass Communication (BAJMC) is a multifaceted undergraduate program that immerses students in a comprehensive array of subjects, encompassing journalism, mass communication, and the arts. This versatile degree opens doors to a world of opportunities, offering students a rich and diverse educational experience. Let's dive into the details of what makes BAJMC a broader perspective on the world of media and communication.
Coursework That Encompasses the Spectrum
The BAJMC program is designed to provide a holistic understanding of the media landscape. Students engage in coursework that covers a wide spectrum of subjects, including:
Writing and Editing: BAJMC students refine their writing skills and learn the art of crafting compelling narratives. They develop expertise in editing, ensuring accuracy and clarity in their work.

Research: Research skills are honed to gather and analyze information effectively, a crucial aspect of journalism and communication.

Media Ethics: Ethics in journalism and mass communication are emphasized, enabling students to navigate complex moral and professional dilemmas.

Media Law: A strong foundation in media law equips BAJMC graduates with the knowledge to operate within legal boundaries while exercising their rights and responsibilities as media professionals.
One of the standout features of the BAJMC program is the breadth of career options it opens up. Graduates of this program possess the skills and knowledge to explore diverse career paths, including:
Journalism: BAJMC graduates can step into the world of journalism as reporters, editors, or correspondents. They play a crucial role in delivering news to the public, informing and engaging audiences on various topics.
Mass Communication: Public relations, advertising, and marketing are fields where BAJMC graduates can thrive. They shape public perception, create compelling campaigns, and communicate messages effectively.
Media Production: The program equips students with multimedia skills, making them adept in content creation, videography, and multimedia storytelling. These skills are invaluable in today's media landscape.
Arts and Culture: BAJMC graduates also find themselves well-suited for careers in arts management, cultural affairs, or arts journalism. They can contribute to the promotion and appreciation of the arts.
Adaptable and Versatile Graduates
One of the hallmarks of BAJMC graduates is their adaptability. Equipped with a broad skill set and knowledge base, they are prepared to tackle the ever-evolving challenges of the media and communication industries. Whether it's reporting breaking news, crafting persuasive advertising campaigns, or curating cultural events, BAJMC graduates are versatile professionals ready to make their mark.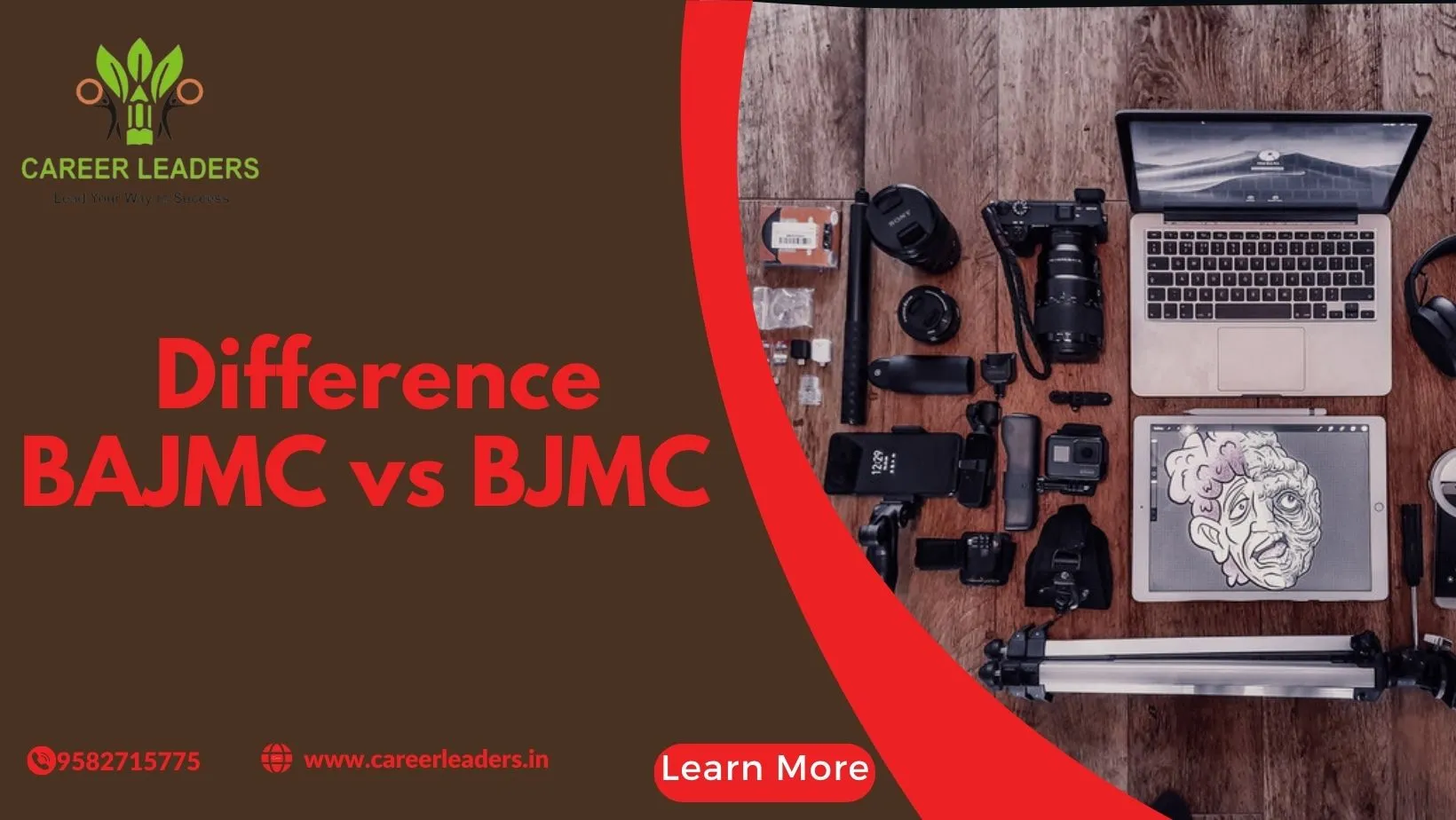 BJMC: Nurturing Specialized Media Professionals
Bachelor of Journalism and Mass Communication (BJMC) stands as a testament to specialization and an unwavering commitment to the field of journalism and mass communication. Unlike its broader counterpart, BAJMC, BJMC takes a focused approach, immersing students in the core aspects of these dynamic industries. Let's take a detailed look at what makes BJMC a specialized program par excellence.
Core Curriculum Designed for Mastery
The BJMC program is tailored to create experts in the field. Students engage in coursework that delves deep into the intricacies of journalism and mass communication, covering vital subjects such as:
News Writing: The art of crafting news articles that are not only informative but also concise and engaging.

Feature Writing: Going beyond the headlines, feature writing explores in-depth storytelling, often shedding light on human interest stories and unique perspectives.

Editorial Practices: BJMC students learn the editorial process, gaining insights into decision-making, newsroom management, and editorial ethics.

Photojournalism: The program emphasizes the power of visual storytelling, teaching students to capture compelling images that enhance news stories.

Videography: In the digital age, video content is paramount. BJMC graduates possess the skills to create impactful video stories.
Pathways to Specialized Careers
The specialized nature of BJMC paves the way for graduates to excel in highly focused roles within the media and communication industries. Here are some of the career avenues that BJMC graduates are well-prepared to embark upon:
Journalism: BJMC graduates are equipped to serve as the lifeblood of journalism, working as reporters, editors, or correspondents. They bring news to life, ensuring that the public remains informed and engaged.
Mass Communication: Whether it's television, radio, or digital media, BJMC graduates contribute their expertise to various media outlets and platforms. They shape how information is presented and disseminated.
Public Relations: The specialized knowledge of communication strategies and media dynamics allows BJMC graduates to excel in the world of public relations. They play a pivotal role in managing the reputation and communication strategies of organizations and individuals.
A Laser Focus on Expertise
One of the hallmarks of BJMC graduates is their specialized expertise. Through intensive coursework and hands-on experience, they master the art of storytelling, reporting, and media communication. They are the professionals who keep journalism's heart beating, who produce captivating content, and who understand the nuances of effective communication.
Choosing the Right Program for You
The decision to embark on your undergraduate journey is a significant milestone, and it's essential to choose the path that aligns with your interests, strengths, and future career aspirations. When navigating the choice between Bachelor of Arts in Journalism and Mass Communication (BAJMC) and Bachelor of Journalism and Mass Communication (BJMC), several factors come into play. Let's delve into these considerations to help you make an informed choice that best suits your educational and career objectives.
Your interests should be at the forefront when selecting a program. Ask yourself:
What aspects of journalism and mass communication appeal to you the most? BAJMC takes a broader approach, encompassing various facets of media, including journalism, mass communication, and the arts. If you're intrigued by a wide array of subjects within these domains, BAJMC may be your ideal choice.

On the other hand, do you have a specific passion for storytelling, writing, and reporting? If you find your heart set on these core aspects of journalism and mass communication, BJMC offers a specialized focus that could be a perfect fit.
Recognizing your strengths and talents can significantly influence your decision:
Are you a proficient writer and communicator? BAJMC emphasizes these essential skills, preparing you for diverse roles across journalism, mass communication, public relations, advertising, and marketing.

Alternatively, do you possess skills in other areas, such as photography or videography? BJMC's specialized curriculum could enhance your abilities in these specific fields, positioning you for careers in journalism, mass communication, and public relations, with an additional focus on visual storytelling.
Your career aspirations are pivotal in this decision-making process:
What do you envision yourself doing upon graduation? If you aspire to be a journalist, editor, or producer who contributes to various media outlets, both BAJMC and BJMC can open doors for you.

However, are you interested in a broader range of professions like public relations or advertising? BAJMC's comprehensive coursework can equip you with the skills needed to thrive in these fields.
Conclusion
By thoughtfully considering these aspects and weighing the distinctions between BAJMC and BJMC, you can make a well-informed choice aligned with your academic and career objectives. It's crucial to remember that both programs offer valuable opportunities; the ultimate decision depends on your individual passions and aspirations. Rest assured, your journey in journalism and mass communication will be rewarding, shaping you into a skilled and knowledgeable professional in your chosen field.
If you have any further questions or need additional guidance, please feel free to reach out our website 

[careerleaders.in]