Enter the Bachelor of Business Administration (BBA) in Healthcare Management, a program designed to equip you with the knowledge and skills necessary to excel in this dynamic field.
Unveiling the BBA in Healthcare Management
A BBA in Healthcare Management is a comprehensive three-year undergraduate degree program that delves into the intricacies of business management and its application within the healthcare realm. Throughout this program, students embark on an educational journey that encompasses an array of essential subjects, including strategic planning, financial management, marketing, human resources, and operations management.
Beyond theoretical knowledge, students also acquire practical experience through internships and other hands-on learning opportunities, ensuring they are well-prepared to tackle the real-world challenges of the healthcare industry.
Pathways to a Variety of Healthcare Careers
One of the most attractive aspects of pursuing a BBA in Healthcare Management is the vast array of career possibilities it opens up in the healthcare sector. Graduates of this program can explore careers in roles such as:
Hospital Administrator: These professionals oversee the daily operations of healthcare facilities, ensuring that they run efficiently and effectively.
Clinic Manager: Clinic managers are responsible for managing the day-to-day affairs of medical clinics, ensuring seamless patient care and satisfaction.
Medical Practice Manager: In this role, individuals manage the administrative and operational aspects of medical practices, allowing doctors and healthcare providers to focus on patient care.
Health Insurance Manager: Healthcare insurance managers handle the complexities of health insurance plans, from enrollment to claims processing, ensuring that individuals have access to essential coverage.
Health Information Technology Manager: These professionals play a vital role in implementing and managing healthcare information systems, enhancing data security and patient care delivery.
Healthcare Consultant: Healthcare consultants provide valuable insights and strategies to healthcare organizations to improve their efficiency and effectiveness.
Pharmaceutical Sales Representative: In this role, individuals promote and sell pharmaceutical products to healthcare providers, contributing to the dissemination of cutting-edge medical treatments.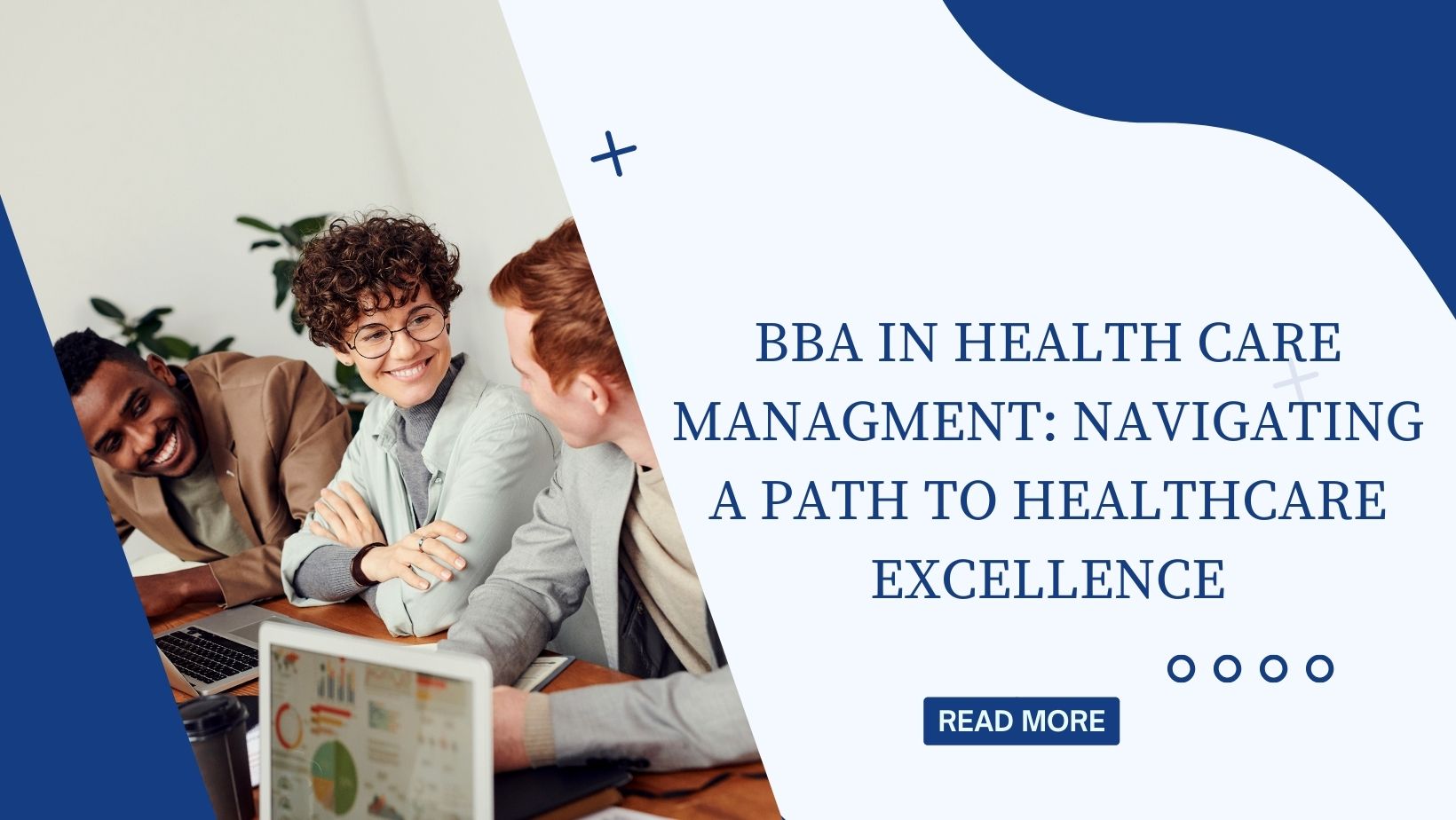 The future appears promising for healthcare managers. According to the Bureau of Labor Statistics, employment of healthcare managers is projected to grow by a remarkable 32% from 2020 to 2030, far outpacing the average growth rate across all occupations.This surge in demand can be attributed to the increasing need for healthcare services and the imperative to enhance the efficiency and quality of healthcare delivery.
The Advantages of Pursuing a BBA in Healthcare Management
Here are some compelling reasons why pursuing a BBA in Healthcare Management is a prudent choice:
A Solid Foundation in Business Management: The program provides a strong grounding in core business management principles.
Application in Healthcare: It equips students with the ability to apply these principles specifically within the healthcare industry.
Hands-On Experience: Through internships and experiential learning opportunities, students gain practical experience that enriches their understanding and skills.
Versatile Career Paths: Graduates have access to a multitude of career avenues within the healthcare sector.
Highly Respected Degree: A BBA in Healthcare Management is widely respected and recognized, opening doors to numerous opportunities.
Exploring Educational Institutions in India
If you're intrigued by the prospect of a BBA in Healthcare Management, you might want to consider some of the esteemed colleges and universities in India that offer this program. Here are a few noteworthy options:
In conclusion, a BBA in Healthcare Management represents a gateway to a fulfilling and impactful career in the ever-evolving healthcare industry. As this sector continues to expand and transform, skilled healthcare managers will play a pivotal role in ensuring the delivery of high-quality healthcare services to populations worldwide. If you aspire to contribute to this noble mission, a BBA in Healthcare Management could be your ideal starting point on the path to healthcare excellence

.