Delhi, a bustling hub of opportunities, hosts some of the finest institutes and coaching centers. Among these, Career Leaders emerges as a beacon for aspiring hoteliers. With a singular focus on Hotel Management, this coaching institute stands out for its comprehensive curriculum, expert faculty, and remarkable success stories in Hotel Management. Let's delve into why Career Leaders is hailed as the premier destination for Hotel Management coaching in Delhi.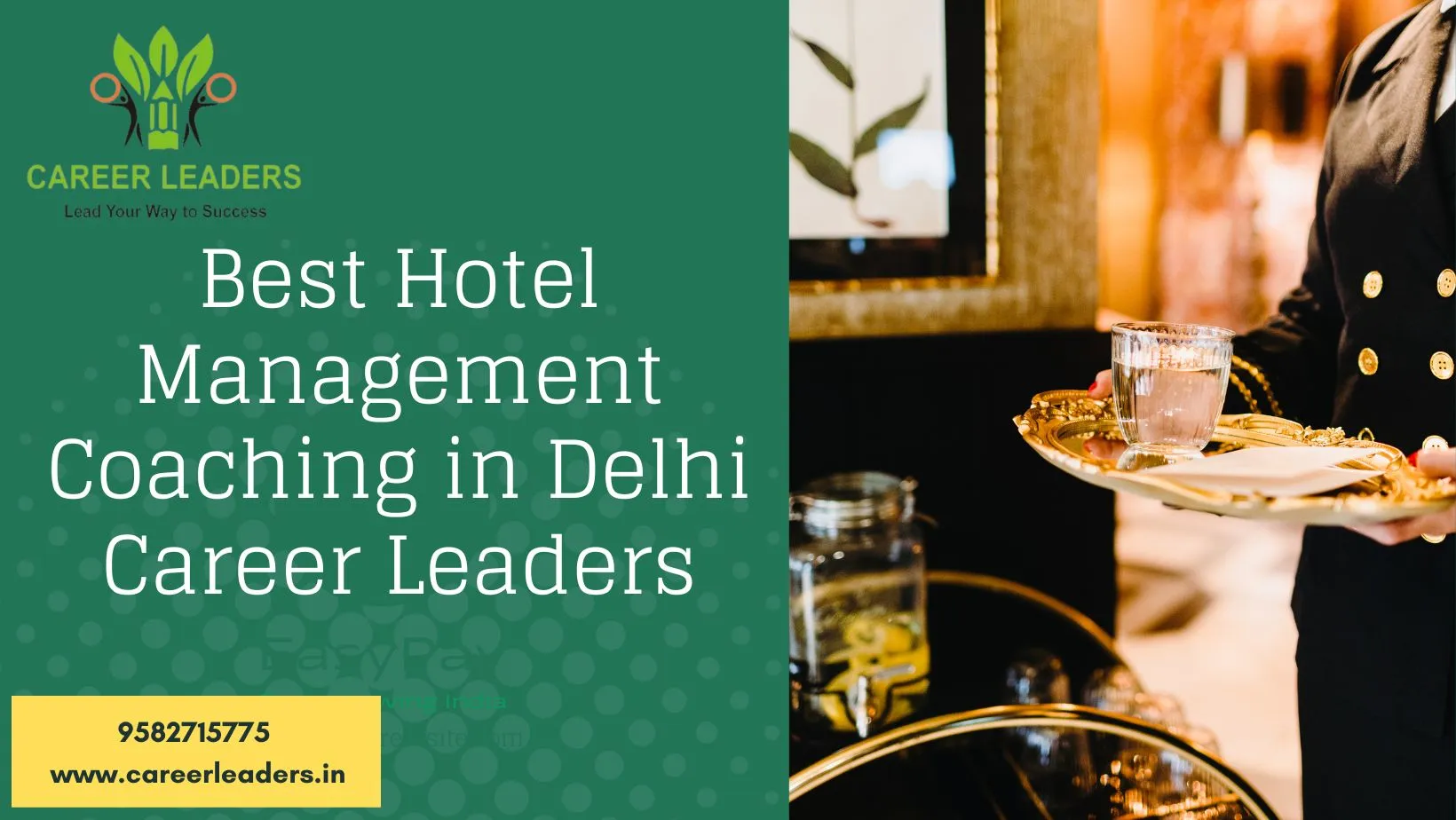 Advantages Of Chossing Career Leaders
Foundations of Excellence: Career Leaders lays its cornerstone on a robust foundation of excellence. Their curriculum is meticulously crafted, covering every aspect of hotel management – from hospitality principles to operational expertise. The program is designed to nurture students with a holistic understanding of the industry, incorporating both theoretical knowledge and practical skills.
Expert Faculty & Industry Insights: At Career Leaders, the faculty comprises seasoned professionals and industry experts. Their rich experience not only enriches the learning process but also provides invaluable insights into the ever-evolving hospitality landscape. The institute regularly hosts workshops, seminars, and industry interactions, ensuring students stay updated with the latest trends and practices.
State-of-the-Art Infrastructure: A conducive learning environment is crucial for honing skills. Career Leaders takes pride in its state-of-the-art infrastructure, equipped with modern amenities and facilities. From well-equipped kitchens and mock hotel setups to advanced computer labs, students get hands-on experience in a simulated real-world setting.
Personalized Approach to Learning: Recognizing that each student is unique, Career Leaders adopts a personalized approach to learning. Small batch sizes facilitate individual attention, allowing students to clarify doubts and receive personalized guidance from mentors. This personalized approach fosters an environment conducive to growth and skill development.
Internship and Placement Opportunities: One of the hallmarks of Career Leaders is its strong industry connections. The institute collaborates with leading hotels and hospitality chains, offering students unparalleled internship opportunities. Moreover, their dedicated placement cell ensures that students are well-prepared and connected with lucrative career prospects upon completion of the program.
Success Stories and Alumni Network: The success stories of Career Leaders' alumni speak volumes about the institute's efficacy. Graduates have not only excelled in their careers but have also become industry leaders. The institute takes pride in its extensive alumni network, providing a platform for networking, mentorship, and ongoing support.
Adaptive Learning and Technological Integration: Keeping pace with technological advancements is pivotal in the hospitality industry. Career Leaders integrates modern technologies into its curriculum, preparing students to adapt to the dynamic nature of the field. From hospitality management software to innovative teaching methodologies, the institute ensures students stay ahead in the digital age.
Student-Centric Approach and Support Services: Beyond academics, Career Leaders prioritizes the overall well-being of its students. Counseling services, career guidance, and extracurricular activities are part of their holistic approach to grooming future hospitality leaders. The institute focuses on nurturing not just professionals but well-rounded individuals.
The advantages of Career Leaders extend beyond these features:
6. Internship Opportunities: Career Leaders has forged partnerships with leading hotels and restaurants, providing students with invaluable internship opportunities. These experiences enable students to gain practical insights and real-world experience in the hotel industry.
7. Placement Assistance: Understanding the significance of career placement, Career Leaders extends dedicated placement assistance to students. This support aids students in securing positions in top-notch hotels and restaurants upon the completion of their studies.
8. Industry-Integrated Curriculum: Career Leaders keeps its curriculum aligned with the latest industry trends and requirements. This ensures that students are well-prepared to meet the dynamic demands of the hospitality sector.
9. Soft Skills Development: In addition to academic excellence, Career Leaders places a strong emphasis on soft skills development. These include communication skills, customer service, and problem-solving abilities, which are vital in the hotel industry.
10. Interview Preparation: Beyond the entrance exam, Career Leaders offers specialized interview preparation sessions. These equip students with the confidence and skills needed to excel in hotel management program interviews.
11. Guest Lectures: To provide real-world insights, Career Leaders frequently invites guest lecturers who are seasoned professionals in the hotel industry. This exposure helps students gain practical knowledge and a broader perspective on the field.
Conclusion:
In the realm of hotel management coaching in Delhi, Career Leaders shines as a beacon of excellence. Its commitment to providing a comprehensive education, combined with a student-centric approach and industry integration, makes it the top choice for aspiring hoteliers. The institute's track record of producing successful professionals speaks volumes about its efficacy. For those looking to embark on a fulfilling career in hotel management, Career Leaders stands tall as the definitive choice in Delhi's educational landscape.
If you have any further questions or need additional guidance, please feel free to reach out our website 

[careerleaders.in]
Contact No:
+(91) 95827-15775