The field of Mass Communication is dynamic, diverse, and constantly evolving, reflecting the ever-changing landscape of media and communication. The Bachelor of Journalism and Mass Communication (BJMC) program is your gateway to a thrilling career in this industry. To embark on this journey, it's essential to understand the BJMC syllabus – the roadmap that will guide you through your academic exploration of mass communication studies. In this blog, we'll delve into the core components and subjects that make up the BJMC syllabus, providing you with a comprehensive overview of what to expect during your academic pursuit.
Semester-wise Breakdown
The BJMC program is typically a three-year undergraduate course, divided into six semesters. Each semester offers a unique blend of theoretical knowledge and practical exposure, equipping students with the skills and expertise needed to thrive in the media and communication industry. Let's explore the syllabus semester by semester: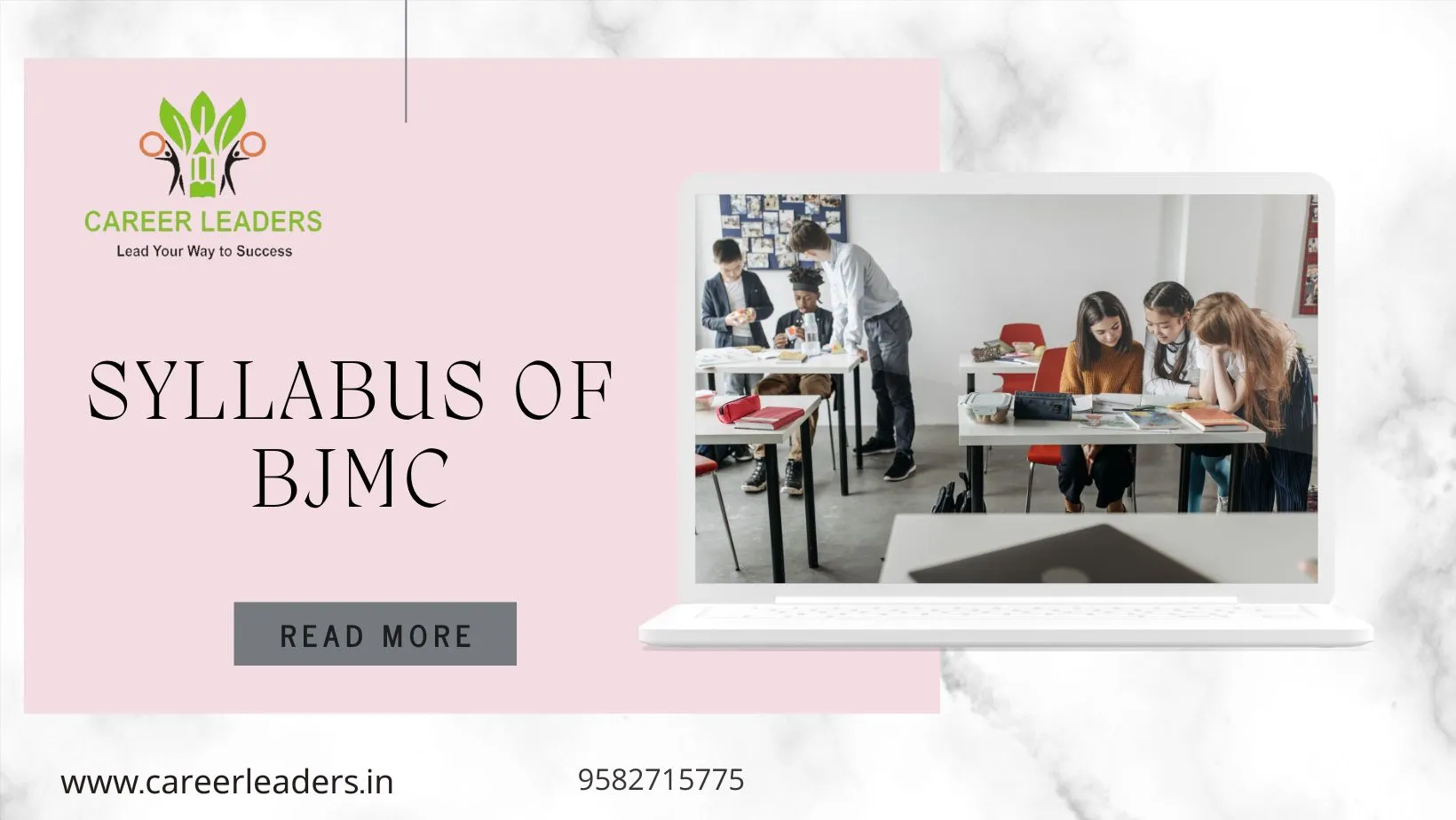 Mass Communication and Society:
The inaugural semester commences with a foundational course in Mass Communication and Society. This course serves as the cornerstone upon which your journey in mass communication studies will be built. It delves deep into the heart of mass media's role in society, its historical evolution, and its profound impact on various facets of life. Students explore the complex interplay between media and culture, analyzing how it shapes public opinion, influences social norms, and reflects the ever-shifting paradigms of our society. By examining the historical milestones and technological advancements that have shaped the media landscape, you gain a comprehensive understanding of its evolution.
Media Laws and Ethics:
As prospective media professionals, it's crucial to navigate the intricate web of media laws and ethics. This course immerses you in the ethical and legal dimensions of journalism and mass communication. It's not merely about learning the laws that govern media, but also about understanding the profound ethical responsibilities media professionals carry. You'll explore issues related to freedom of the press, censorship, defamation, and privacy.
Print Media:
The Print Media course offers an in-depth exploration of one of the foundational forms of journalism: print journalism. Here, you'll delve into the intricacies of news reporting, feature writing, and editorial practices. Students master the art of crafting compelling news stories, capturing the essence of events, and presenting them concisely and informatively. Feature writing, on the other hand, allows for more in-depth and creative storytelling, making it an indispensable skill for journalists.
Communication Theory:
To navigate the complexities of mass communication, you must possess a solid theoretical foundation. This course serves as your theoretical compass. It introduces you to the fundamental theories that underpin mass communication, providing the theoretical framework upon which your studies will be anchored. You'll delve into communication models, media effects theories, and critical theories of mass communication. This knowledge equips you with the tools to analyze and interpret the various forms of media you encounter.
Radio Journalism:
In this module, you'll embark on an exciting journey into the world of radio journalism. Radio remains a potent medium of communication, and this course offers an in-depth exploration of its scripting, production, and presentation. You'll gain a profound insight into the unique art of radio storytelling, learning how to craft compelling narratives, design effective scripts, and fine-tune your vocal skills for effective broadcasting.
Advertising and Public Relations:
This semester introduces you to the captivating realms of advertising, marketing, and public relations. Students delve into the multifaceted world of these interconnected disciplines, exploring the strategies and techniques employed in the advertising and public relations industries. You'll learn how to create persuasive advertisements, manage brand images, and design effective marketing campaigns. Understanding the dynamics of public relations is equally essential, as it empowers you to build and maintain positive relationships between organizations and the public.
Broadcast Journalism:
Building on your knowledge of print and radio journalism, the Broadcast Journalism course shifts the spotlight to television journalism. This dynamic course encompasses a spectrum of essential skills, including news reporting, newsroom practices, and video production. You'll learn how to capture news events visually, craft compelling news stories, and navigate the bustling atmosphere of a newsroom. Video production is a crucial element, teaching you the art of creating television news packages, covering everything from scripting and shooting to editing.
Communication Research:
Research is the backbone of understanding and influencing communication trends and patterns. In this semester, you'll receive an introduction to research methods and techniques within the realm of mass communication. The course encompasses data collection and analysis, arming you with the skills to conduct research in the field. You'll explore various research methodologies, both quantitative and qualitative, to gain insights into media audiences, content, and impact.
Media Management and Organizational Behaviour:
As you progress through the program, a new subject comes to the forefront – Media Management and Organizational Behavior. This intriguing subject delves into the management and business aspects of media organizations, offering insights into the leadership and organizational dynamics that drive them. In today's media landscape, understanding the intricate workings of media organizations is pivotal. You'll explore topics like strategic management, decision-making processes, and the operational challenges media organizations face
Photojournalism:
This semester, the focus shifts to the compelling world of visual storytelling with the Photojournalism course. Students delve into the art and ethics of photojournalism, developing skills in capturing and conveying powerful narratives through images. This field is about much more than just taking photographs; it's about telling a story, often in a single frame. You'll learn how to choose the right angle, lighting, and composition to create emotionally evocative and informative photographs.
Television Production:
The semester continues with an in-depth exploration of television production techniques. This course delves into the technical and creative aspects of television production, including camera operations, editing, and program development. Camera operations are fundamental, teaching you how to handle professional cameras, set up shots, and capture high-quality footage. Editing is an art in itself, as you'll learn to transform raw video into a coherent and engaging story, often using industry-standard software. Program development covers the creation and planning of television programs, considering content, audience, and format.
Media Research:
Building upon the foundational knowledge from the previous semester's Communication Research course, this semester's Media Research course takes a deeper dive into media research methodologies and analysis. You'll continue to explore both quantitative and qualitative research techniques, but with a heightened focus on media-specific applications.
Media Ethics and Laws:
As you step into the realm of Semester 4, you're greeted with an advanced course in Media Ethics and Laws. This subject builds upon your previous understanding of media ethics and legal frameworks. It places a laser focus on the principles of responsible journalism and the ever-evolving landscape of media regulations. In an era where media holds immense power and influence, it's imperative to be well-versed in the ethical considerations that guide journalism.
Online Journalism:
This semester brings you to the forefront of the digital era with the Online Journalism course. The modern media landscape has evolved significantly with the advent of the internet, and this course equips you with the skills necessary to thrive in the digital realm. You'll explore the facets of digital journalism, covering areas such as online news writing, social media reporting, and multimedia journalism. Online news writing involves the art of crafting engaging and informative articles tailored for the web, catering to an online audience.
Media Economics and Management:
In an era where the media industry is not only about news and content but also about economics and business, the Media Economics and Management course offers an in-depth understanding of these critical dimensions. You'll explore media industry economics, which includes studying revenue models, advertising trends, and the financial sustainability of media organizations. Management practices and business models within the media industry are also integral components of this subject. You'll understand the intricacies of managing a media company, including decision-making, resource allocation, and strategic planning.
Development Communication:
The Development Communication course takes you into the realm of communication strategies in the context of development, social change, and advocacy. In today's interconnected world, communication plays a pivotal role in addressing social and developmental challenges. This subject explores the strategies and tools used to facilitate social change, address development issues, and advocate for positive transformations in society. You'll examine the communication approaches used by NGOs, governments, and international organizations to address global challenges such as poverty, health, education, and environmental sustainability.
Public Relations Campaigns:
The journey into the realm of public relations takes an advanced turn with the Public Relations Campaigns course. Building on your foundational knowledge, this subject focuses on the intricacies of planning, executing, and evaluating public relations campaigns. You'll explore the strategic aspects of PR, learning how to design effective campaigns that resonate with the target audience and align with organizational goals. Campaign execution involves managing PR events, press releases, and media relations to create a buzz around your message.
Media Production:
The Media Production course provides you with hands-on experience in creating media content. Students work on media projects, applying their skills in content creation, videography, and storytelling. This practical course immerses you in the world of media production, where you'll learn the art of conceptualizing and producing engaging content. You'll gain insights into scripting, shooting, editing, and post-production processes.
Magazine Journalism:
Magazine Journalism opens the door to the captivating world of magazine production. This subject is a comprehensive exploration of all aspects of magazine journalism, from writing features to layout design and magazine editing. Writing features involves honing your skills in crafting in-depth, engaging, and informative articles that cater to a magazine's target audience. You'll delve into the art of storytelling, learning how to capture the essence of your subjects and create narratives that captivate readers. Layout design is equally crucial, as it teaches you how to visually present content within a magazine, ensuring it's appealing and reader-friendly.
Media Audiences and Feedback:
In an era where communication is a two-way street, the Media Audiences and Feedback course explores the art of engaging with your audience and receiving constructive feedback. This subject delves into the methods of analyzing media audiences, their preferences, and their behaviors. Understanding your audience is pivotal for crafting content that resonates with them. You'll also explore the mechanisms of feedback collection and analysis. Whether it's through social media interactions, surveys, or other means, this course equips you with the skills to gather valuable insights from your audience.
Internship and Practical Training:
The final semester typically involves an internship or practical training, providing you with the invaluable opportunity to gain hands-on experience in a real media organization. This hands-on experience is pivotal for applying the knowledge and skills you've acquired throughout your academic journey. During the internship, you'll work closely with media professionals, engaging in real-world projects, and contributing to the daily operations of the media organization.
Media and Cultural Studies:
The Media and Cultural Studies course is a reflective exploration of the profound impact media wields in shaping culture and influencing society. This subject invites you to delve into the symbiotic relationship between media and culture. You'll explore how media, in its various forms, has the power to shape cultural norms, values, and ideologies. The course delves into the role of media in representing and influencing cultural identities, as well as how it can either challenge or reinforce social hierarchies.
Specialization Electives:
In the final semester, many BJMC programs offer students the opportunity to select specialization electives. These electives enable you to tailor your education to your specific interests and career aspirations. Specialization areas can vary, but they often include options such as documentary filmmaking, health communication, digital marketing, or other specialized fields within mass communication. These electives empower you to deepen your knowledge and skills in a niche area, making you a specialist in your chosen field.
Research Project:
The culmination of your academic journey often involves a research project or dissertation. This project allows you to delve into a chosen area of interest within mass communication, applying research methodologies and critical thinking to explore a specific topic. Whether it's a deep dive into media effects, audience behavior, communication strategies, or any other area of interest, the research project represents the culmination of your academic journey.
Conclusion
The BJMC syllabus is a dynamic and multifaceted journey through the world of mass communication. It equips students with the knowledge and skills needed to excel in various roles within the media and communication industry, from journalism to advertising, public relations, and beyond. As you progress through each semester, you'll gain a holistic understanding of the field while developing practical expertise. Your BJMC education will open doors to a world of opportunities, allowing you to make a significant impact in the realm of media and communication.
If you have any further questions or need additional guidance, please feel free to reach out our website 

[careerleaders.in]