As the academic year progresses, India's ambitious management and law enthusiasts find themselves on the threshold of two esteemed entrance exams – the Common Admission Test (CAT) and the Common Law Admission Test (CLAT). These assessments are gateways to prestigious institutions and promising professional paths. Achieving success in these competitive examinations requires not just hard work, but a strategic approach to preparation.
Administered by the Indian Institutes of Management (IIMs), the Common Admission Test, or CAT, is the ultimate passport to the realm of premium management programs in India. This computer-based test assesses candidates in three vital dimensions:
Verbal Ability and Reading Comprehension (VARC): Proficiency in language and comprehension.
Data Interpretation and Logical Reasoning (DILR): Analytical and logical skills.
Quantitative Aptitude (QA): Mathematical and numerical abilities.
CLAT: Unlocking the Gateway to Legal Excellence
The Common Law Admission Test, or CLAT, conducted by the Consortium of National Law Universities (NLUs), paves the way to esteemed law schools in India. This comprehensive examination tests candidates on five core domains:
English: Language proficiency.
General Knowledge and Current Affairs: Awareness of current events.
Legal Reasoning: Understanding of legal principles.
Logical Reasoning: Critical thinking and logical analysis.
Quantitative Techniques: Numerical and mathematical capabilities.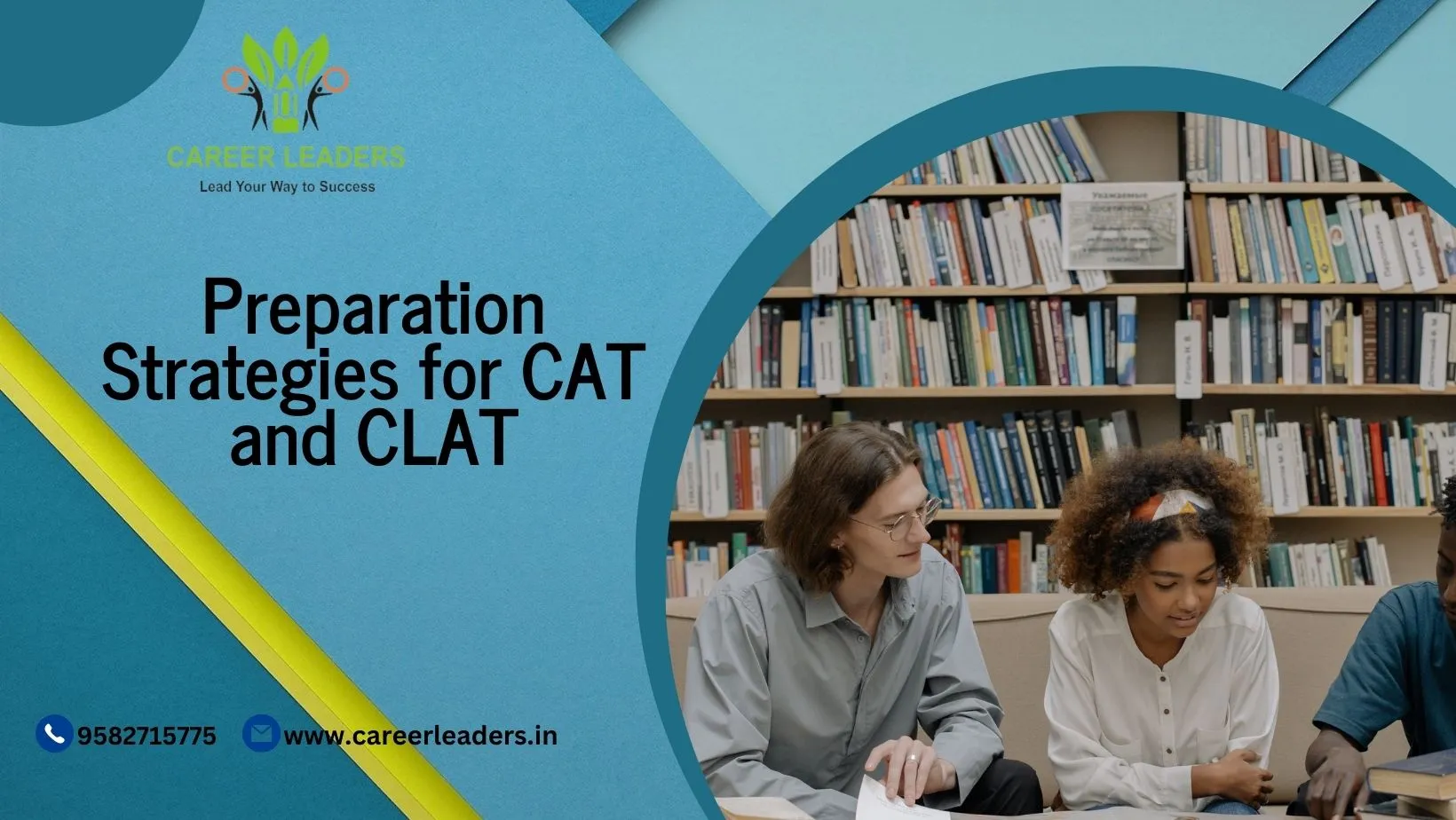 Strategies for CAT and CLAT Success
While CAT and CLAT may differ in their content, they share common preparation strategies for success:
Understanding the Examination Pattern:
A comprehensive grasp of the examination pattern is foundational. Candidates must familiarize themselves with the sections, question types, marking scheme, and time constraints. This understanding guides the study approach and time management during the examination.
Mastery of the Syllabus:
Acquiring an in-depth understanding of the latest syllabus for both exams is indispensable. This necessitates a meticulous examination of each topic within the curriculum. Candidates should identify their strengths and weaknesses to allocate study time judiciously.
Development of a Comprehensive Study Plan:
The cornerstone of effective preparation is a well-structured and realistic study plan. It should encompass all subjects, facilitate regular practice, and feature effective time management. The plan should also include provision for scheduled breaks to prevent burnout.
Utilization of High-Quality Study Materials:
To augment preparation, candidates should refer to recommended textbooks, reputable online resources, and authentic mock tests. Practicing with previous years' question papers provides insights into the examination pattern and question types. Supplementing studies with newspapers, magazines, and legal blogs enhances awareness of current events and legal developments.
Regular Practice:
Consistent practice is the cornerstone of mastery of diverse question types. Candidates must undertake mock tests under simulated exam conditions to evaluate their level of preparation, identify areas requiring improvement, and enhance their time management skills. The analysis of mistakes is pivotal for strengthening weaker areas.
Calm and Confident Demeanor:
Approaching the exam with a calm and confident mindset is imperative. Candidates should remember that their preparation and hard work will yield results. Maintaining a healthy lifestyle, obtaining sufficient sleep, and engaging in stress-alleviating activities are essential for optimal mental performance on the examination day.
Additional CAT Preparation Tips:
Effective Time Management: Apart from subject knowledge, mastering the art of time management during the CAT exam is critical. Candidates should practice solving questions under time constraints to enhance their speed and accuracy.
Mock Tests and Self-Evaluation: Regularly take full-length mock tests to simulate real exam conditions. After each mock test, thoroughly analyze your performance. Identify areas of weakness and strategize on how to improve.
Sectional Focus: Recognize your strong and weak sections within CAT. Allocate more time and effort to your weaker sections while ensuring you maintain proficiency in the strong ones.
Maintain Health and Well-being: Success in CAT is not just about knowledge; it also depends on your mental and physical state. Maintain a balanced diet, get regular exercise, and practice relaxation techniques to keep stress at bay.
Professional Guidance (Optional): If you find yourself struggling with specific sections or concepts, consider enrolling in coaching classes. They can provide targeted guidance and expert insights to help you overcome challenges.
Consistent Revision: Ensure that you allocate time for regular revision of all the topics. Revisiting previously studied concepts helps in retaining information and ensures that you don't forget what you've learned.
Stay Updated with Current Affairs: While not a direct part of the CAT syllabus, staying updated with current affairs can help in the Group Discussion and Personal Interview rounds if you plan to pursue an MBA. It also helps in strengthening your general awareness.
Mock Interviews and GD Practice (For MBA Aspirants): If your goal is to join a management program, consider practicing mock interviews and group discussions to refine your communication and interpersonal skills.
Additional CLAT Preparation Tips:
Regular Writing Practice: Develop strong writing skills by regularly practicing essay writing and legal essays. This will help in the descriptive section of the exam and enhance your ability to express legal arguments clearly.

Participation in Moot Court: If possible, engage in moot court competitions or similar activities to gain practical exposure to legal procedures and argumentation. This hands-on experience can be invaluable in your CLAT preparation.

Legal Vocabulary Enrichment: Work on expanding your legal vocabulary and understanding of legal terminology. Legal reasoning and legal knowledge are integral parts of CLAT, and a rich legal vocabulary will prove advantageous.

Time Management for Reading and Analysis: In the reading comprehension and legal reasoning sections, time management is critical. Practice reading complex legal texts and articles efficiently to extract essential information within time constraints.

Legal News Updates: Stay informed about legal news, landmark judgments, and significant legal developments. Understand their implications and be prepared to discuss or write about them during the examination or interviews.

Interactive Group Studies: Organize group study sessions with fellow CLAT aspirants. Engaging in discussions and debates on legal topics can provide diverse perspectives and enhance your analytical and argumentative skills.

Previous Year Papers and Sample Papers: In addition to mock tests, solve previous years' CLAT papers and sample papers. This will give you a sense of the actual exam format and types of questions that appear.

Visit Courts or Legal Proceedings: If possible, attend court proceedings or legal lectures in your city. This can provide you with real-world exposure to legal proceedings and enhance your understanding of practical legal scenarios.
Conclusion:
CAT and CLAT are not just tests of knowledge but also assessments of time management, analytical skills, and composure. By following these expert strategies, candidates can significantly improve their prospects of success and move towards their dream institutions and careers. Dedication, meticulous planning, and unwavering effort are the cornerstones of triumph in these examinations, paving the way to a fulfilling journey in management or law.
If you have any further questions or need additional guidance, please feel free to reach out our website 

[careerleaders.in]