Career Leaders is the top IPMAT coaching institute in Laxmi Nagar. With expert faculty, comprehensive curriculum, and proven track record of success, Career Leaders helps students achieve their dream of getting into IIM.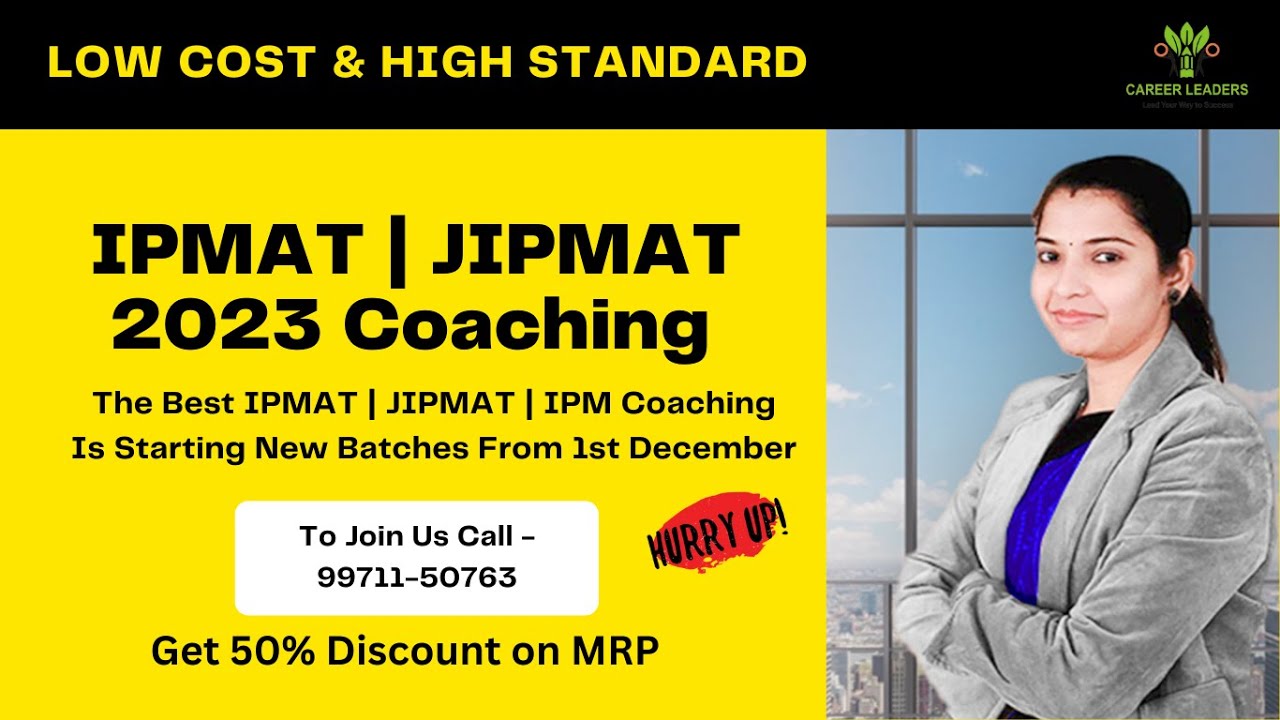 CAREER LEADERS: IPMAT Coaching
Choosing the right coaching institute plays a pivotal role in achieving success in competitive exams like the IPMAT. In the bustling area of Laxmi Nagar, one coaching institute stands out as the premier destination for IPMAT preparation: Career Leaders. With its exceptional faculty, comprehensive curriculum, and proven track record of success, Career Leaders has established itself as the go-to institute for IPMAT aspirants. In this blog, we will delve into the key reasons why Career Leaders is widely regarded as the top coaching institute in Laxmi Nagar for IPMAT preparation.
Expert Faculty
At the heart of Career Leaders lies its team of highly qualified and experienced faculty members. These exceptional experts, many of whom are alumni of prestigious institutions like IIMs and DU, bring with them unparalleled knowledge and understanding of the IPMAT exam. With their expertise and passion for teaching, Career Leaders' faculty members go above and beyond to guide and mentor students throughout their IPMAT journey. Their deep subject knowledge, effective teaching methodologies, and commitment to student success make them an invaluable asset to Career Leaders.
Comprehensive Curriculum
Career Leaders offers a comprehensive curriculum meticulously designed to cover all the essential topics of the IPMAT exam. The institute recognizes that a strong foundation in all exam areas is crucial for success. Hence, the curriculum is tailored to meet the specific requirements of IPMAT aspirants, providing them with a well-rounded understanding of concepts and strategies. By focusing on the core syllabus, Career Leaders ensures that students are equipped with the necessary knowledge and skills to tackle the exam with confidence.
Regular Practice Tests and Mock Interviews
One of the standout features of Career Leaders' IPMAT preparation program is its emphasis on regular practice tests and mock interviews. These assessments serve as crucial tools for students to evaluate their progress and identify areas that require improvement. The practice tests mirror the actual IPMAT exam format, allowing students to become familiar with the test structure, manage time effectively, and develop a strong exam strategy. Additionally, the mock interviews help students enhance their communication skills, build confidence, and perform well in the interview rounds of the IPMAT selection process.
Personalized Attention and Support
We understand that each student is unique, with their own strengths and weaknesses. To cater to individual needs, the institute provides personalized attention and support to every student. The faculty members are readily available to address any doubts or queries, ensuring that students receive the necessary guidance and assistance throughout their preparation journey. Moreover, Career Leaders offers one-on-one counseling services to help students make informed decisions about their career path, fostering a supportive environment that nurtures growth and success.
Proven Track Record of Success
The success stories of past students are a testament to Career Leaders' excellence in IPMAT preparation. Over the years, the institute has helped numerous students achieve their dreams of securing admission to renowned institutions like IIM Indore. The exceptional results achieved by Career Leaders' students reflect the institute's commitment to providing top-notch coaching and support. This track record of success not only showcases the institute's expertise but also instills confidence in future aspirants, making Career Leaders the preferred choice for IPMAT preparation.
Conclusion
When it comes to IPMAT preparation in Laxmi Nagar, Career Leaders emerges as the undisputed leader. With its exceptional faculty, comprehensive curriculum, focus on practice tests and mock interviews, personalized attention, and proven track record of success, Career Leaders offers a winning combination for aspiring IPMAT candidates. By choosing Career Leaders, students can embark on their journey towards achieving success in the IPMAT exam and securing admission to prestigious institutions. With the institute's unwavering commitment to student excellence and holistic support, Career Leaders truly stands as the top coaching institute in Laxmi Nagar for IPMAT preparation.